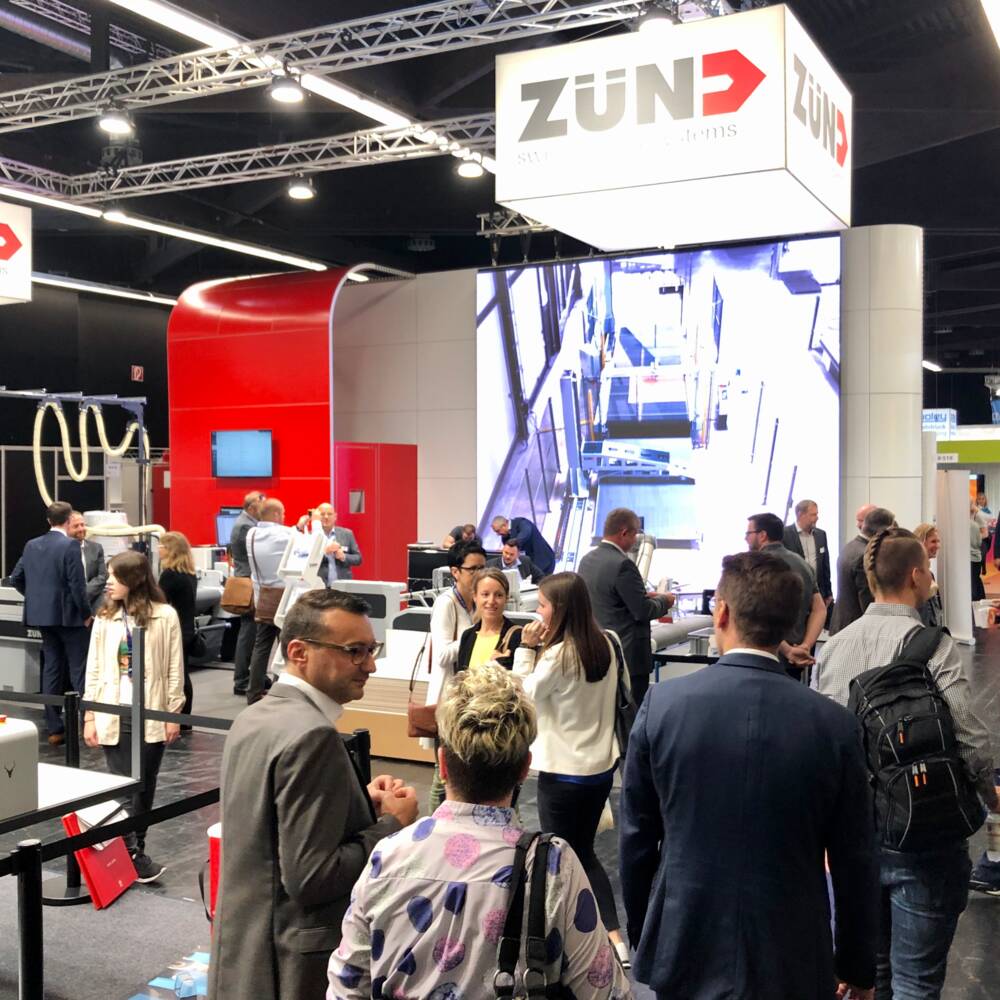 Solutions for industrial-level finishing
In the value chain of packaging production, finishing plays a key role. This is where a salable end product is created and, consequently, where systems promoting fast, flexible, and highly automated production are of great importance. At Fachpack 2019, Zünd presented technology solutions that answer precisely those industry needs.
The Zünd exhibit showcasing the latest generation of high-performance cutting systems in conjunction with intelligent automation solutions was met with great interest among attendees. Zünd demonstrated how packaging manufacturers can use Zünd digital cutting technology controlled by a state-of-the-art user interface and digital production workflow to manufacture product automatically, economically, and according to the highest quality standards. For example, with the Zünd D3 dual-beam cutter that is setting the standard in productivity. Equipped with dual beams, the D3 is capable of doubling the throughput. Combined with the Board Handling System BHS150, it becomes a fully automated, high-performance production line. Transport- and other complex packaging systems can be integrated in one highly automated production workflow. The BHS150 allows users to take full advantage of fully automated manufacturing. The combination of 1.5m stack height, high production speeds, and extremely short set-up times leads to considerable increases in productivity and profitability. The Zünd systems' modular design enables quick adaptation and increased levels of automation in response to changing demands. As an example of advanced automation, Zünd showed an S3 M-800 equipped with automated sheet feeder and a collaborative robot set up for the removal of cut pieces. Other live demonstrations included uninterrupted cutting of corrugated cardboard and protective foam on a G3 cutter configured for tandem operation.
«Our cutting systems make it possible for our customers to convert their finishing into a digital process, which helps them become more efficient and productive. Thanks to their modular design, Zünd cutting systems can be easily adapted to new and changing requirements. This guarantees the highest level of productivity while at the same time ensuring a perfectly safe investment.»
Aleksandar Lazic
Segment Manager Packaging