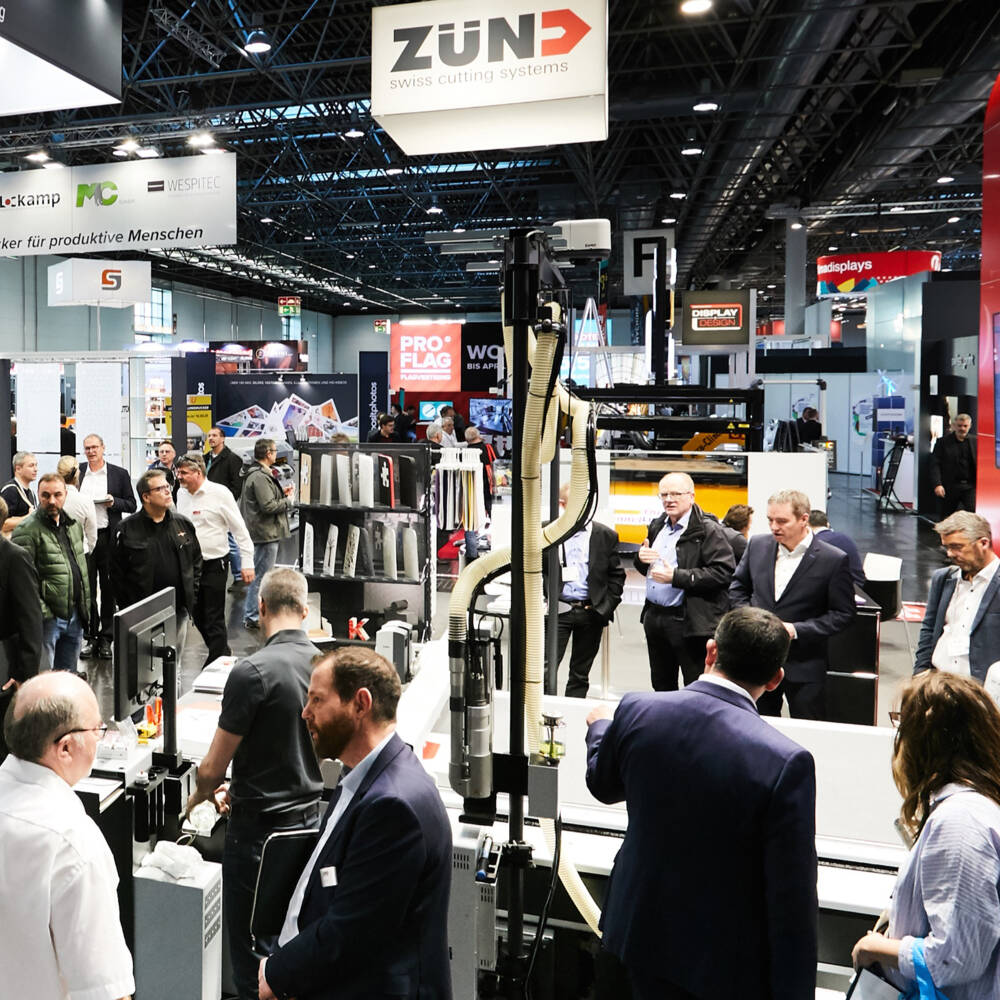 Zünd cutting systems — versatility at its best
Whether digitally printed POP displays made of cardboard, fabric banners, or acrylic signage — Zünd digital cutting technology can handle these materials and many more, along with a multitude of processing methods. At Viscom 2020 (Hall 13, Booth D39), Zünd presents the complete range of production scenarios available to print service providers and advertising professionals.
Zünd cutting systems set new standards in digital cutting. They are the perfect choice for economically producing high-quality ad graphics. From acrylic to cardboard and textiles, Zünd`s universal cutting systems process a wide range of substrates. As versatile as the range of materials that can be cut on a Zünd, the available processing methods are equally diverse and include cutting, folding, creasing, perforating, routing, and laser cutting. A truly powerful routing solution on display is the Zünd RM-L. With up to 3.6 kW of power, the RM-L opens up new possibilities when it comes to the choice of materials. The addition of the automatic router-bit changer ARC makes router bit handling a fully automated process.. For perfect results in corrugated POP displays, Zünd has developed the Press Cutting Tool - PCT. The use of a drag knife, instead of an oscillating blade, and the special glide shoe prevent damage to the liner board. This enables both faster processing speeds and clean, precise cut edges.
«Print service providers and sign makers are required to produce customized and personalized products in short and micro runs efficiently and economically and in ever-shorter delivery times. Zünd offers solutions that meet all of these requirements while ensuring maximum efficiency and economy.»
Zünd Cut Center ZCC, Zünd`s user interface and workflow software, offers a variety of cut-to-print registration options. The Over Cutter Camera - OCC system captures the position of graphics with lightning speed and compensates for any distortions. The OCC system will be on display at Viscom on a Zünd G3 cutting system. The OCC is also available for S3 and D3 series cutters. A very useful feature is the ZCC with Dashboard. It is browser based and visualizes the performance data of the Zünd cutter(s) in use. Production managers can access the dashboard at any time to obtain relevant performance data, retrieve the current order status, or obtain an overview of the overall productivity of each cutter over a user-definable time period.
Zünd offers a handy Illustrator plug-in with Zünd Design Center ZDC. ZDC lets users create packaging and displays with just a few mouse clicks. At the core of ZDC is a comprehensive library of parametric design templates. By plugging in the desired dimensions and layouts, these can be easily adapted, scaled, and viewed in three dimensions.