Durham Box doubles productivity with Zund cutting-edge automation
Durham Box is a well-established family owned business operating in the packaging space since 1989 and has recently expanded their business capabilities by investing in a Zund D3 digital cutter equipped with a fully automated Board Handling System BHS150.
As part of a decision to grow their business and keep up with increasing customer demand, the Durham based packaging solutions provider is the first customer in the UK to have a Zund D3 cutter with a BHS150 board handling system installed, giving them 24/7, non-stop operation capabilities. The purchase was part of an on-going factory expansion and recent acquisition of the property next door, the 10,000 square foot unit enabled the installation of the Zund cutter.
"We saw the Zund cutting edge automation first-hand during our visit to the Zund Customer Experience Centre at Zund HQ in Switzerland and knew straight away this was the right investment for us. We saw other digital cutting manufacturers but the Zund D3 build quality and cutting speed impressed us, especially the dual beam configuration for maximum productivity alongside the board handling system. The Modular cutter concept the D3 has to offer was also a positive for us because it means we can adapt our Zund cutter to new requirements at any time, making our investment future proof for upgrades and expansions", explains Dan Morris, Joint Managing Director at Durham Box
Durham Box predominantly manufacture corrugated packaging for both small SME's and large multinational companies; a key driver to its success is their ethos of supporting customers of all sizes regardless of their volume requirements. "Regardless if you spend £5,000 or £500,000, Durham Box will employ the same high level of energy to every aspect of your packaging requirement".
In recent years the company has seen an increase in enquiries for digital printing and took a business decision to invest and expand its offering to also include large format printing solutions for its customers. This led to the purchase of the Zund D3 XL-3200 flatbed cutter with a working space of 3200 x 2270mm, equipped with a BHS 150 board handling system that enables them to produce around the clock with minimal operator intervention or resources. With an impressive stack height capacity of 1.5m, pallets of raw material can be moved into the loading unit and then fed onto the cutting system without further manual intervention.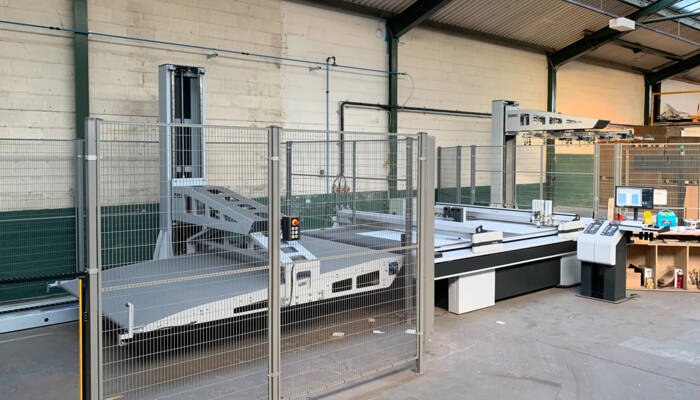 The BHS 150 is an innovative system that makes use of a conveyorised transport system for unloading and stacking the cut material, eliminating the need for bridges to keep cut pieces in place and reduces the time and effort involved in separating cut parts from waste. "Medium and large orders can now be processed unattended, even in lights-out operations".
Furthermore, the Zund D3 sets new performance standards with its innovative dual beam system. The two beams can each be equipped with up to three different modules and enable the doubling of the material throughput with both beams cutting simultaneously.
"We also liked the intuitive, modular functionality the D3 offers compared to a conventional die cutting machine, jobs can be set up extremely quickly which means we have the flexibility of having short run capabilities on the Zund with minimal downtime. The Zund D3 digital cutter compliments our recent digital printer purchase, giving us a complete workflow process. Through our investment in Zund, we have now become a one stop shop for corrugated packaging and high-quality large format print finish", concludes Dan Morris.