Workflow for processing textiles
Load
Zünd offers a wide range of material-handling systems. They automate material-feeding and ensure tension-free andvancing.
Capture
A camera captures the fabric that needs to be processed and its exact position and dimensions, no matter whether the material is plain, printed, or patterned.
Create marker
Powerful nesting software places parts on the fabric as tightly as possible to maximize material yield and automatically creates the marker.
Cut
Textiles are cut to shape with high-performance tools. The vacuum system provides reliable hold-down during the cutting process.
Unload
For efficient removal, cut parts need to be identified quickly and unmistakably. The system automatically color codes and projects other relevant data to help the operator with picking/sorting.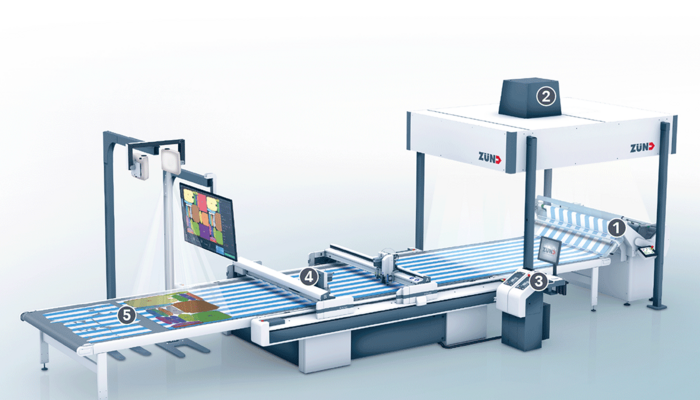 Digitally printed sportswear
Flexible and precise: processing custom-printed textiles
Digitally printed custom fabrics are the latest trend. Zünd's Print&Cut workflow provides the necessary data consistency. Because of their open interface, Zünd cutters can be easily integrated in existing workflows and enable efficient cutting of custom-printed textiles using register marks for matching cut to print.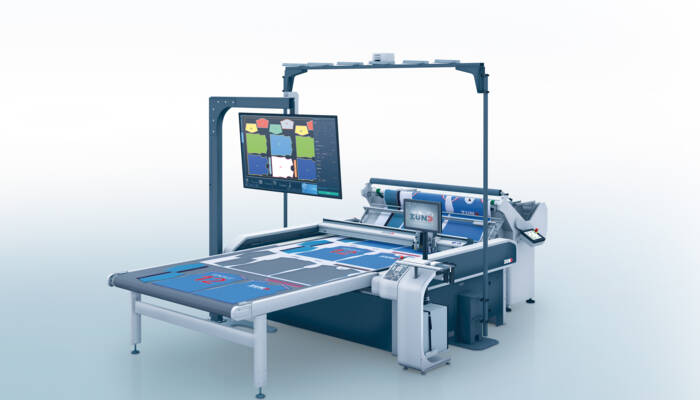 Apparel
Perfect pattern matching on patterned fabric
Whether dotted, checkered, or striped - advanced registration systems are capable of recognizing patterns automatically and reliably. In seconds, markers are perfectly matched and adjusted to the pattern at hand.