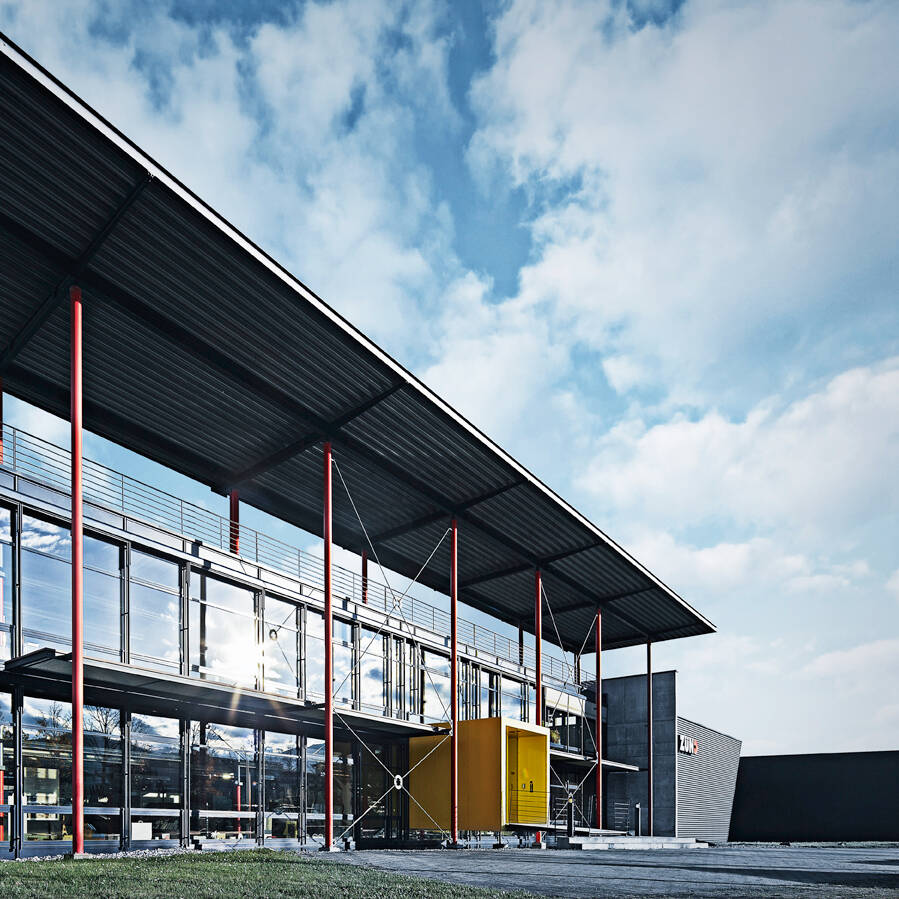 Contacts
Competent advice, customer proximity and comprehensive service characterize us and our local sales partners.
Zünd worldwide
Find a contact near you.
Zünd subsidiaries
We have our own sales and service organizations all over the world. Through our subsidiaries, we can offer expert advice and high-quality service in closer proximity to Zünd customers everywhere.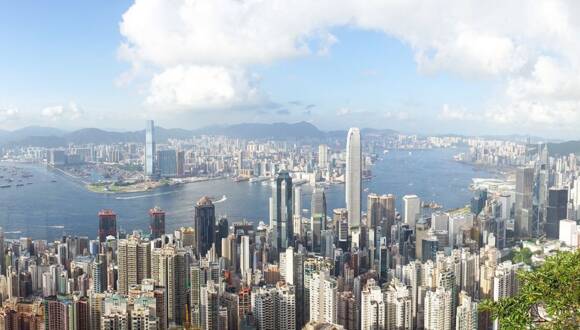 Room 11, 9 / F.
Eastern Harbour Centre
28 Hoi Chak Street
Quarry Bay
Hongkong
T +852 2561 1812
infoasia@zund.com
50 Bhupasandra Main Road - NTI Layout
RMV Extension 2nd Stage
Vinayaka Layout, Bhoopasandra
Bangalore, KA 560 094
T +91 80 2341 4411
infoindia@zund.com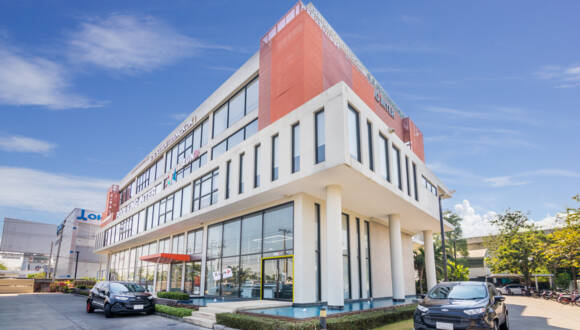 28, 1st & 3rd Floor
Motorway Road
Prawet, Prawet
Bangkok 10250 Thailand
T +66 64 184 3159
infobkk@zund.com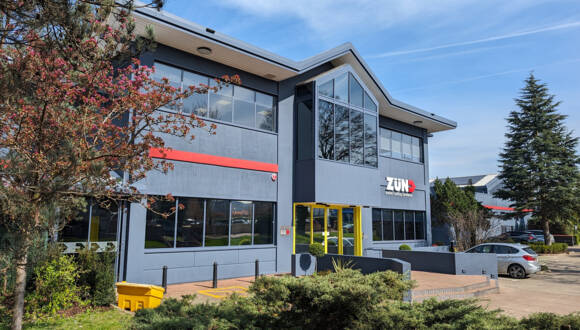 Unit 1, Spring Valley Business Centre
Porters Wood, St. Albans, Hertfordshire, AL3 6PD
United Kingdom
T +44(0) 1727 833 003
salesuk@zund.com
Convincing arguments for Zünd
10 reasons why Zünd is your first choice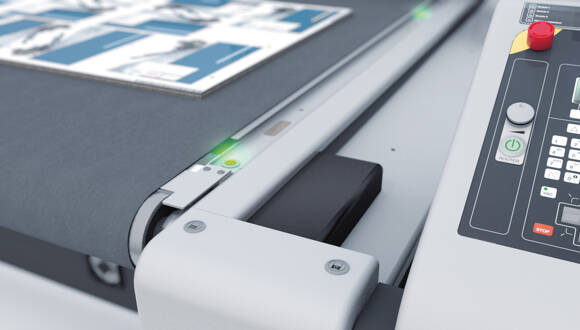 The safety of your investment is important to us. You can easily and cost-effectively retrofit a Zünd cutter any time you please. Configure your digital cutting system according to your specific needs. We will gladly help you assess your current and future production needs and advise you on a configuration that is tailor-made for you.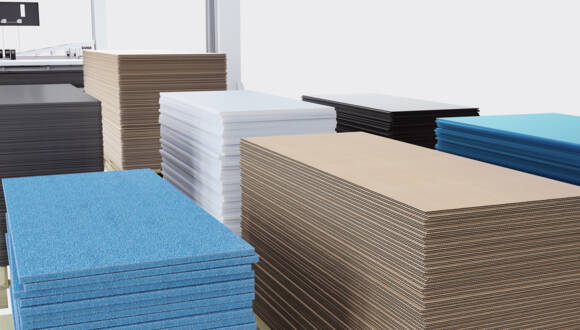 Digital cutting increases your productivity in many ways. Reduce set-up times, optimize repeatability, increase cut quality. Whether you are producing batch size 1 or in high volume no longer matters. You become more flexible in order planning and processing, can make changes quickly and economically, on the fly. Zünd cutters are easy to integrate in your digital workflow. Converting to digital cutting creates transparency. It provides relevant data on performance and productivity so you can make the right decisions.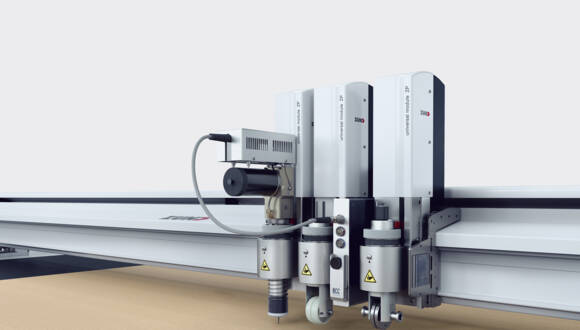 Digital cutting allows you to expand and differentiate your product offering at any time. New applications, new materials, new services - the wide selection of tools and functionalities gives you more latitude. You can offer an even broader spectrum of choices and solutions to meet your customers' needs. Even some that you may not currently have on your radar.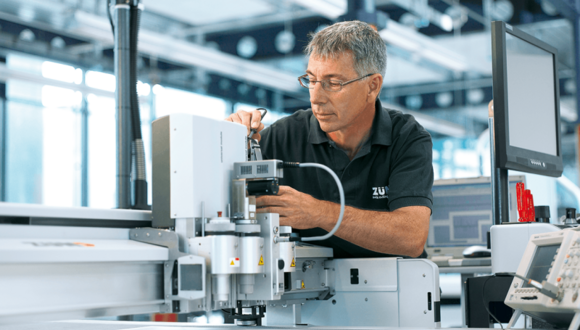 Precision is an integral part of the DNA of our cutting systems. Zünd cutters are precision equipment. All components - from drive system to blade - are coordinated in every aspect. Zünd cutters offer exceptionally high precision and repeatability in the cutting process.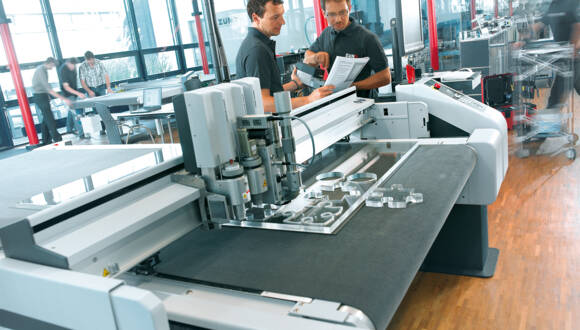 Their open architecture makes Zünd cutting systems easy to integrate in a wide variety of production workflows and software environments. You decide for yourself what your workflow should look like.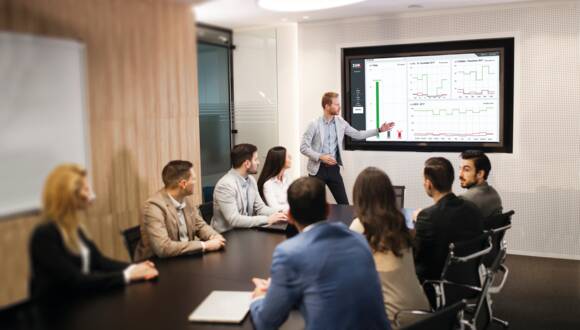 Fabric or acrylic, cutting, creasing, or perforating - Zünd cutting system impress with their flexibility. The wide range of materials and processing methods make Zünd cutters almost universally applicable. And it helps you better cope with increasing numbers of short runs and customer demand for customization and personalization.
Time is money - intuitively structured control software and short training times are a must. This is where Zünd software tools make a significant contribution. They are intuitive, easy to learn, and support the user throughout the production process.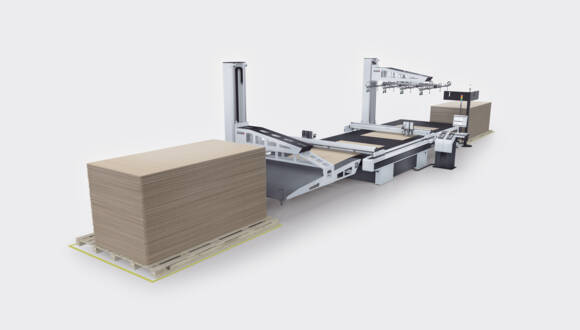 Process automation is the path to efficient and economical digital cutting. Zünd offers the right automation solutions for every step of the workflow - from material transport and tool handling to registration and material capture and the removal of cut parts.
Innovative technology, robust construction, and minimal downtime guarantee low maintenance costs and high reliability. Zünd cutters are a safe investment and offer maximum value retention.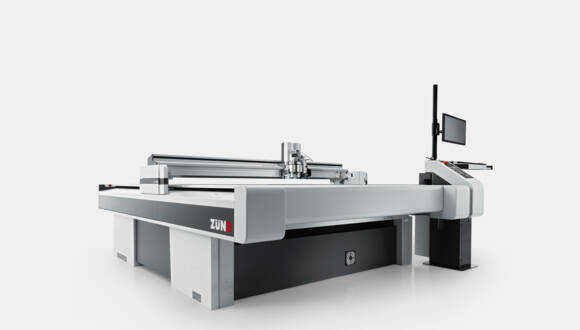 Swiss quality in design and build – this means above all that we rely on solid engineering driven by innovation. This results in highly robust and extremely durable cutters. Reliability in every sense of the word.
The tools that come with our machines are developed by Zünd as well and are equally robust. We put them through the same rigorous quality and performance assessments before adding them to our lineup. This gives you the assurance that the tools and the cutter are a perfect match.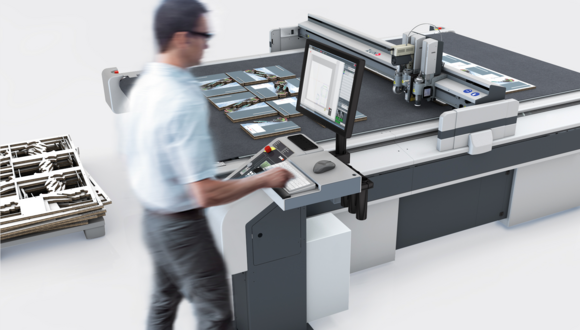 Since its foundation in 1984, Zünd has accumulated a tremendous amount of experience in digital cutting. All this expertise in digital cutting technologies and many different applications are the perfection foundation for developing cutting solutions that will help you gain a competitive advantage. We know the challenges you are facing. And if you think we do not, we would love to hear from you!