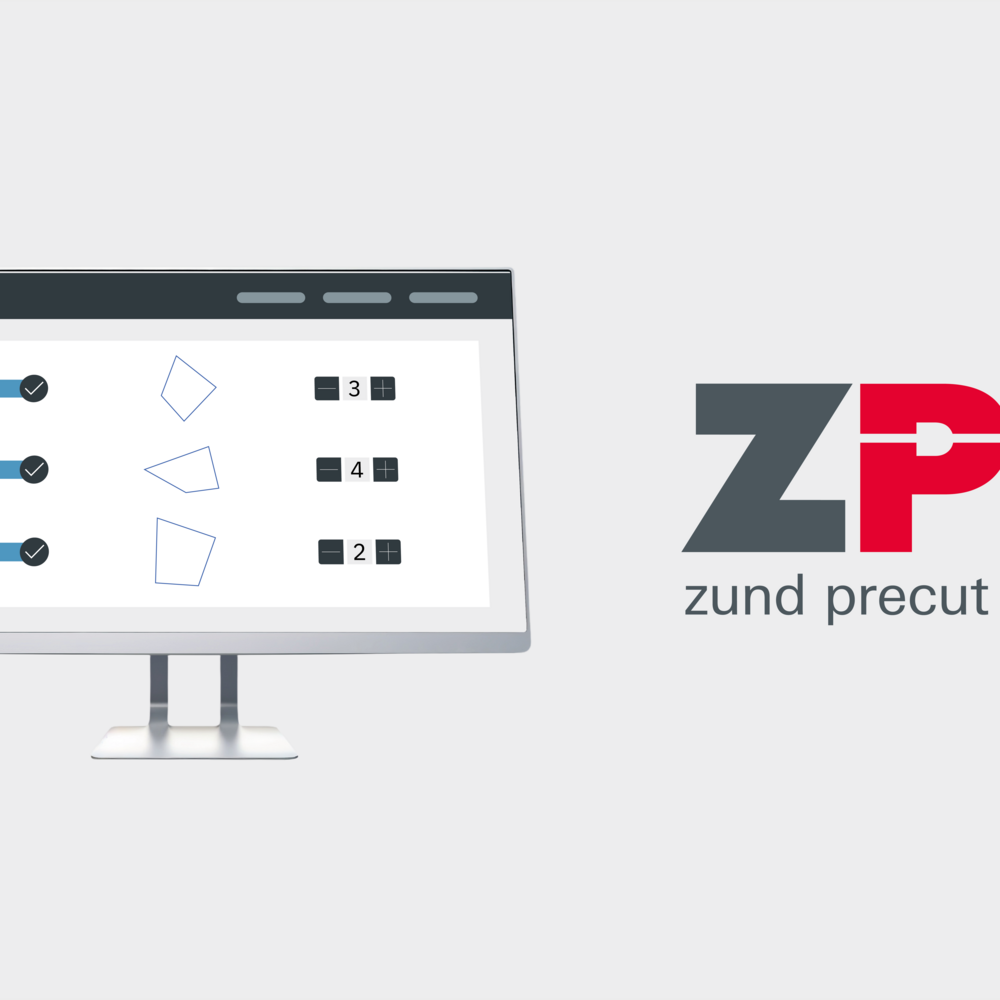 Back to overview
Zünd PreCut Center
The PreCut Center – ZPC lets you create nested job files simply and efficiently.
PreCut Center facilitates data preparation and output. In just a few steps, users can create fully nested job files and automate their data workflow according to their individual requirements.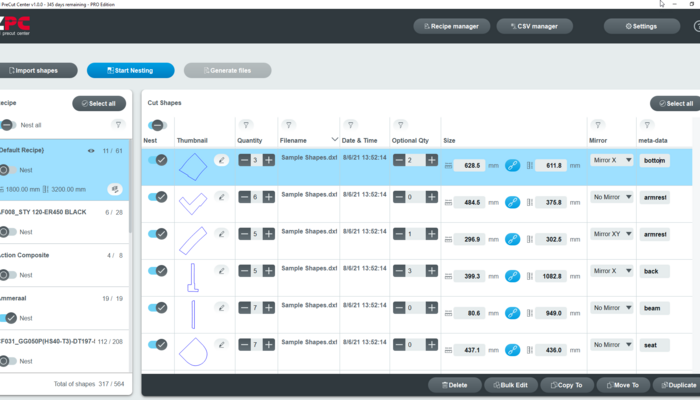 From order to delivery
Optimize your workflow with Zünd PreCut Center
With PreCut Center, you prepare fully nested cut files in no time at all. The high degree of automation reduces your workload in preparation to a minimum, material is optimally utilized and potential sources of error are eliminated.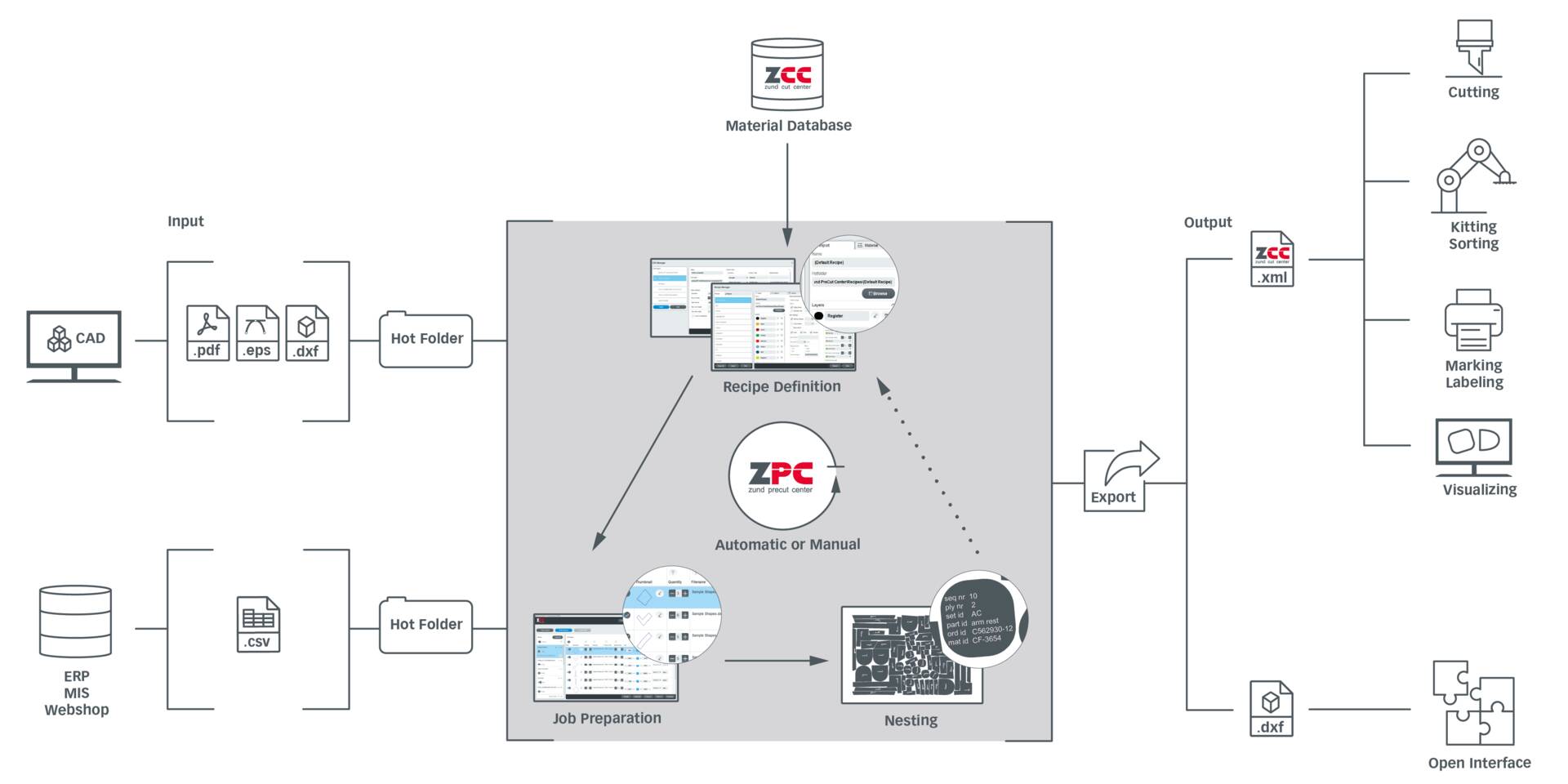 Benefits
Arguments for Zünd PreCut Center
The PreCut Center combines all steps required for data preparation in one piece of software. Job files are prepared automatically. The use of recipes ensures a simple, repeatable workflow and reduces the potential for error.
Automatic nesting of cut contours makes optimal use of your material, helping you reduce waste. Intelligent nesting algorithms are used here.
Recipes make the process of generating complete job files simple and repeatable. This reduces manual intervention to an absolute minimum.
The PreCut Center integrates seamlessly into existing workflows. Standardized and open interfaces, as well as the option to work with hot folders, provide maximum compatibility. The PreCut Center accepts standard file formats such as .dxf or .csv.
Recipes, which are essentially "assembly instructions" for creating cut images, ensure process repeatability at all times, thus reliably minimizing the potential for error. Recipes contain all relevant job parameters, such as material definition, import/export parameters, nesting configurations, etc.
Key functions
Cut contours and structured job data are imported at the press of a button or completely automatically. This accelerates your processes and minimizes the number of manual steps in preparing ready-to-use production data.
Zünd PreCut Center adapts to your data structure. The software is open and adaptable to customer-specific data structures. Import filters can be flexibly configured and enable seamless integration of cut job generation into your workflow.
Recipes are essentially "assembly instructions" that dictate how job files are prepared. They include information on material, import and export parameters, nesting configuration, output parameters, etc. The use of these recipes makes the process of creating job data easily repeatable and helps prevent data preparation errors.
Zünd PreCut Center offers the option of integrating select metadata into the output file. This additional information is assigned to individual cut contours and may include a material expiration date, cut sequence, part identification, or attribution of the cut part to a customer order.
The Zünd PreCut Center lets you export the job file either as a .dxf or .zcc file. Depending on the individual data workflow, the job file can also be exported directly to the Cut Queue, the production planning tool integrated into the Zünd Cut Center – ZCC operating software.
Features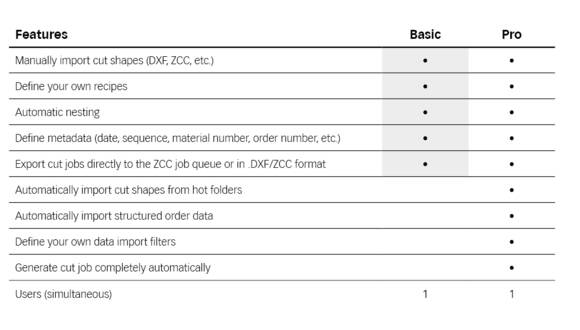 Manually import cut shapes (DXF, ZCC, etc.)
Define your own recipes
Automatic nesting
Define metadata (date, sequence, material number, order number, etc.)
Export cut jobs directly to the ZCC job queue or in .DXF/ZCC format
Users (simultaneous) 1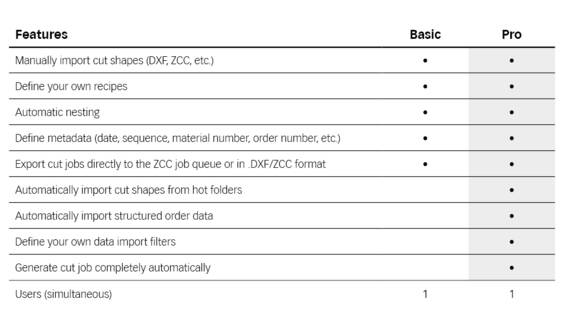 Manually import cut shapes (DXF, ZCC, etc.)
Define your own recipes
Automatic nesting
Define metadata (date, sequence, material number, order number, etc.)
Export cut jobs directly to the ZCC job queue or in .DXF/ZCC format
Automatically import cut shapes from hot folders
Automatically import structured order data
Define your own data import filters
Generate cut job completely automatically
Users (simultaneous) 1