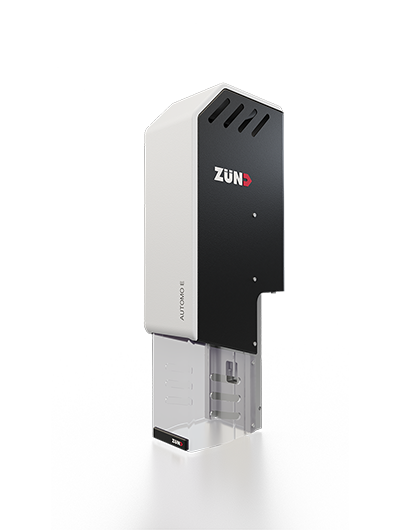 AUTOMO
AUTOMO is compatible with a wide range of tools. To best meet different application requirements, the modules are available in two versions.

AUTOMO serves as a carrier module for many different tools. Compatible Zünd tools can be used in a wide range of applications and require different properties.
Product information
AUTOMO E
The AUTOMO E carrier module features the latest drive technology for maximum acceleration and processing speed. The AUTOMO E offers excellent downward pressure of up to 20 kg/44 lbs.
Mass: 5,8 kg | 12,8 lbs
Adjustable clamping force: up to 20 kg
Lift speed: 500 mm/s | 20 in/s
Z acceleration: 10 m/s2 | 33 ft/s2
Pneumatic clamping system (tool fixing), automated picking/replacing of tools from the tool magazine
Compatible with Q-Line
AUTOMO L
The AUTOMO L is the carrier module for large tools such as the CRETO 150 but can also hold all other tools from the latest generation. The newly developed motor drive can produce a downward pressure of up to 50 kg /110 lbs.
Mass: 7,2 kg | 15,9 lbs
Adjustable clamping force: bis 50 kg
Lift speed: 300 mm/s | 12 in/s
Z acceleration: 10 m/s2 | 33 ft/s2
Pneumatic clamping system (tool fixing), automated picking/replacing of tools from the tool magazine
Compatible with Q-Line