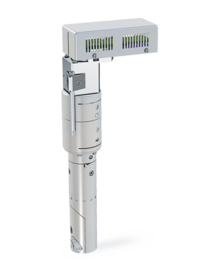 Driven Rotary Tool - DRT
The Driven Rotary Tool is designed for cutting all manner of textiles reliably and economically. The material is cut with a motor-driven ten-segmented blade. The blade geometry reduces the drag force on the material considerably and also helps cleanly sever thread or fiber. This processing method produces clean, precise cuts even on very loose, coarsely knit materials.
Choice of two RPM setting depending on the application. Also suitable for cutting materials with low melting points.
Use of rotary blades reduces drag on the material
Choice of 2 RPM settings (20,000/12,000 rpm)
Clean separation of each thread or fiber
Compatible with G3, S3, D3, L3
Product information