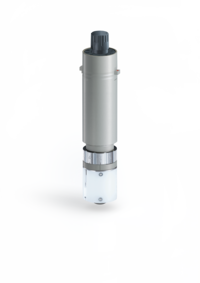 Press Cutting Tool - PCT
High processing speeds and high-quality results equal to die cutting: The PCT tool cuts corrugated cardboard up to 7 mm thick and simultaneously compresses the material with a special glide shoe.
The press cutting tool has been developed for economical cutting of corrugated cardboard up to a thickness of 7 mm. During the cutting process, a specially designed glide shoe compresses the material along the cut lines. The pressure exerted on the corrugated cardboard enables the use of drag knives and facilitates high processing speeds.
Special glide shoe for high-quality results equal to die-cutting
Very high processing speeds
Simple, precise depth adjustment
Fully supported in Zünd Cut Center - ZCC
Maximum material thickness: 7 mm
Suitable for flat-stock drag knives
Compatible with G3, D3, and S3
Product information