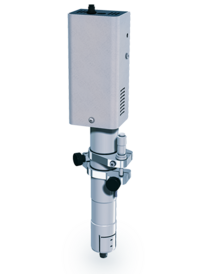 Universal Routing Tool - URT
At the heart of the URT is a 300 W router spindle which operates at up to 80,000 rpm, depending on material and application. In combination with the many compatible bits Zünd offers, this makes for a powerful, widely applicable routing solution. Besides processing softer materials, the URT can also handle more challengins, denser ones in multiple passes.
The URT can easily be converted from a router to an engraving tool. In engraving mode, the height of the tool can be precisely adjusted with a micrometer screw. This ensures precision engraving, with consistent line widths and depths.
The airflow from the well-designed dust-extraction system effectively cools both the router bit and spindle, which significantly increases their longevity.
Routing and engraving with one tool
Consisten, precise control of routing depth
300 Watt router bit spindle with up to 80,000 rpm
Stepless adjustable speed
Wide assortment of Zünd router bits available
Compatible with G3, S3, L3, D3
Product information
Materials
Aluminum
Wood
Plastics
Composites