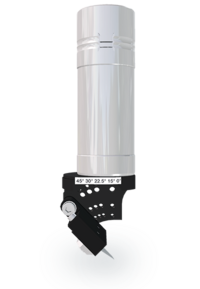 V-Cutting Tool - VCT1
The V-Cutting Tool is the perfect tool for producing complex, three-dimensional structural designs made of cardboard, foamcore materials, or corrugated/honeycomb display board. A well-thought-out design allows for quick tool changes and easy, precise angle adjustments.
The VCT1 can cut at eight different angles (0°, 5°, 7.5°, 10°, 15°, 22.5°, 30°, 45°).
Simple, precise angle adjustments
Produces cuts at eight different angles
Very quick blade changes
Compatible with G3, S3, D3
Product information