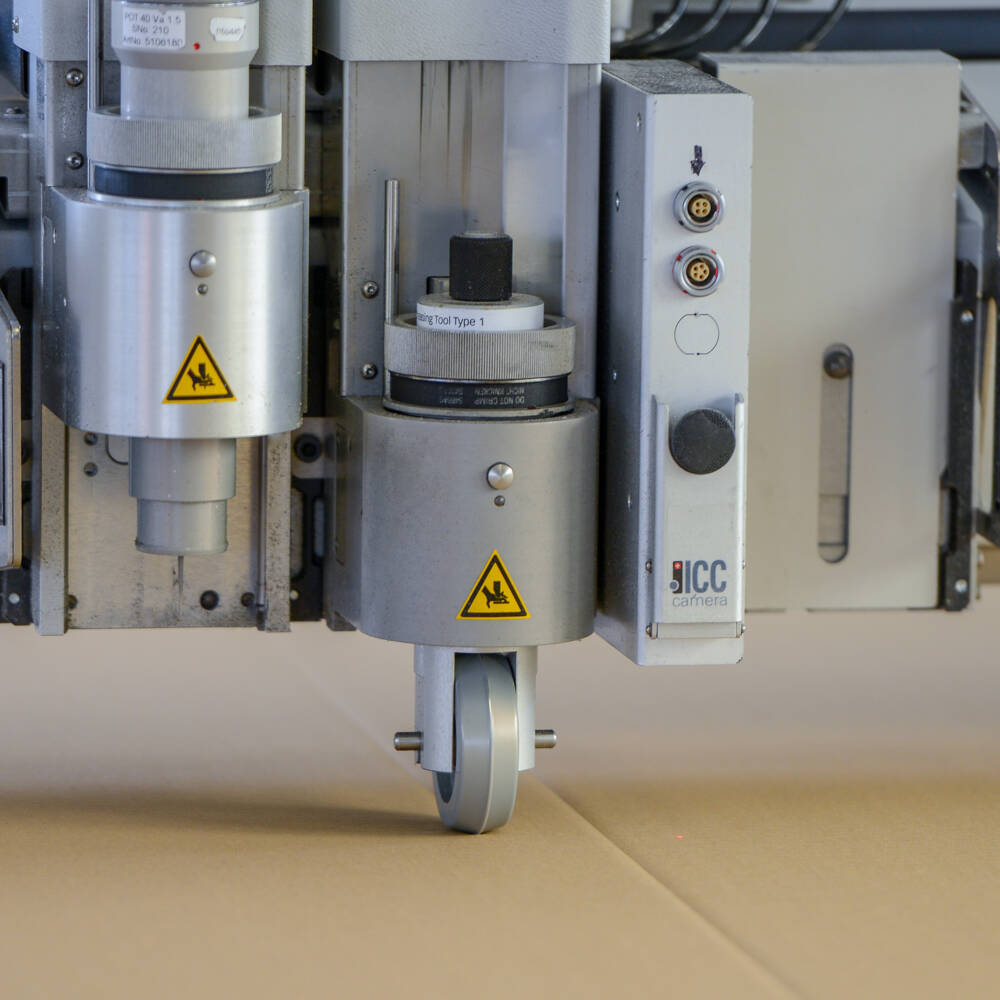 Albfactory – all digital, naturally
The corporate DNA of German packaging supplier Verpackungsberatung Hage VB-H GmbH & Co. KG is digital through and through. This is mainly due to the owners' innovative and pioneering spirit but also their early adoption of Zünd digital cutting technology. The company also has a high-powered digital printing department.
Digital natives and digital immigrants – the digital age has created a division on our society: On the one hand, there are the young people who grew up with computers, the Internet, and social media; on the other, the digital immigrants, who are less adept at multitasking, not as well connected, and tend to operate in a more linear fashion. Or so goes the theory. A visit to packaging supplier Verpackungsberatung Hage VB-H in the Swabian Alps proves quite the opposite is true. Entrepreneurs Ursula Hage and Karl Müller have been at work here since 1998. Both are digital immigrants and more familiar than most with the ins and outs of the packaging industry. And they are true digital professionals who can lay out the advantages of digital packaging production, the benefits of digital workflows, so simply and clearly, their success comes as no surprise.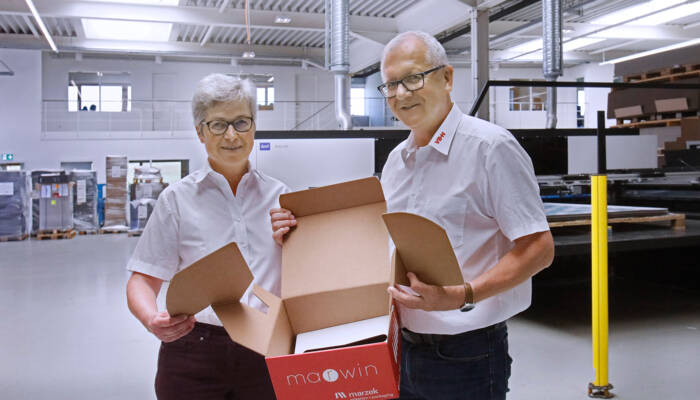 Investment in Zünd Cutters a logical step
But VB-H, too, had its beginnings in an analog world. Packaging solutions were drawn up with pencil and ruler on paper, samples were built using knives and scissors. As early as in 2008, Hage and Müller, with a good dose of pioneering spirit, decided to completely transform the company and digitize all its processes. Right from the start, the company began relying on digital cutting technology from Zünd. Some of the first Zünd G3 cutters – the premiere of G3 in Germany – were put in place for sample-making and short-run production. These innovations in the cutting department, combined with digital printing, quickly made VB-H a specialist in all phases of digital production. "Designing and developing packaging solutions for our customers had always been a primary focus for us. But when that part of our business began to grow so rapidly, the investment in our first Zünd cutter was a logical step. And we had it amortized in record time," explains Ursula Hage. Then came larger Zünd G3 cutters, equipped with Board Handling Systems BHS, which enabled fully automated material handling. Just in time for the company's 20th anniversary, a newly added building became operational, the Albfactory. As an addition to its already considerable fleet of cutters, two fully automated, high-performance production lines were put in place consisting of two large Zünd D3 cutters, again with BHS. The Albfactory now has a total of six Zünd cutters in operation.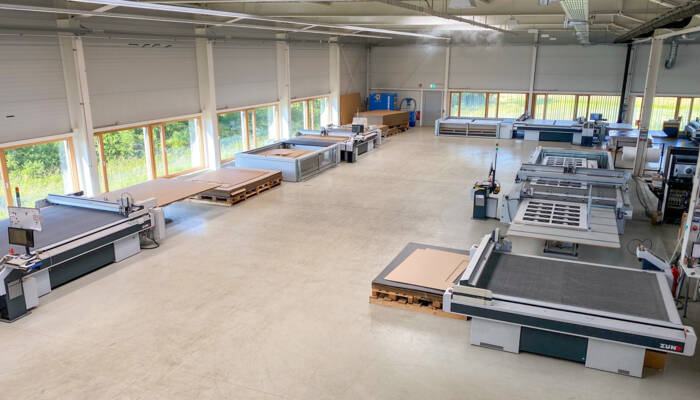 "A digital transformation is not just happening here, it's also happening in the minds of our customers"
Ursula Hage
One source for all
Packaging design, sample-making and prototyping, production, contract packaging, warehousing, and fulfilment – VB-H takes care of the entire value chain in-house, with a common "digital thread" running through all aspects of the company. "We guide and support our clients all the way, from the initial design to serial production," explains Ursula Hage. "Digital packaging production with Zünd cutters and digital presses offers enormous advantages in that there are no costs for dies and printing plates. We can react very quickly and flexibly to customer demand, which makes this type of packaging production extremely attractive, especially for small to medium runs." Thanks to their know-how and experience, VB-H is now very well connected in the industry and has become a supplier to, among others, large, well-known packaging manufacturers for whom short-run production would not pay off because of their focus on high-volume. In the retail sector, VB-H works with leading manufacturers throughout Europe. Merchandise fulfillment is handled on a daily basis in a large distribution center with its own fleet.
When Karl Müller speaks of "medium runs", he is sometimes referring to 5,000 or more units. "Of course, we have series that start at one, but we now regularly have production runs up to 1,000. And depending on the sheet size, they can go as high as 5,000." VB-H has become the point of contact even for orders of that magnitude since customers are often unable to get them anywhere else because of supply-chain issues or delivery problems.
Cutting technology
What motivates these two entrepreneurs? "First of all, Zünd technology is ingenious. And then there's the entrepreneurial spirit coupled with a certain need to take chances," says Karl Müller. "Traditional industrial production was never our goal; others can do that better. With our focus on pre-production and sample-making, on rush jobs, etc., we occupy a niche. There are very few large providers we have yet to help get out of a jam." Digital cutting offers tremendous flexibility: "There is no such thing as "no can do". If a customer orders twenty boxes at 5 p.m. for the following morning, we make it happen. Thanks to our Zünd cutters with automatic board handling, we can produce even significantly larger runs in a very short time and for quick delivery. We just need to make sure the cutters and digital presses are producing 24/7. Our production is set up for "lights-out operation" anyway." In terms of manpower, Müller speaks to an issue of concern for many employers in the area: "In our case, the numbers add up because, in contrast to a more traditional production scenario, staffing figures into the equation differently. In our region like elsewhere, skilled workers are getting harder and harder to find. Converting to digital was really our only option. Right from the start, we were well positioned with digital cutting technology from Zünd combined with digital printers; we did not have to completely reinvent ourselves."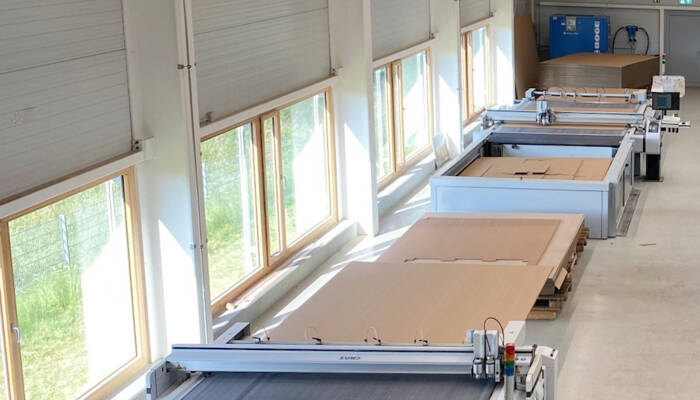 The Albfactory
In 2018 VB-H embarked on its latest expansion with the inauguration of the Albfactory, a production facility built entirely with an eye towards sustainability. The addition is equipped with solar power, heat-exchange climate control, and its own small wind turbine. The cutting technology, too, underwent another upgrade, this time with the addition of two Zünd D3 XL-3200 cutters. These are again equipped with BHS Board Handling Systems to ensure a high degree of workflow automation. The decision to stick with Zünd's more conventional board-handling solution with a 50 cm stack height was a very deliberate one: "Because of the way we structure our workflow, we opted for the BHS for the fourth time. The 50 cm stack height allows for highly flexible job assignment and processing, with different substrates and formats stacked on top of each other." With their dual-beam system, Zünd D3 cutters have the ability to instantly double the throughput and set new standards in productivity. "At the Albfactory, we have concentrated our production, our digital cutting operations, in an area of 1,250 sq. m (13,500 sq. ft.). This has once again massively simplified and streamlined our production workflow. We have put a lot of work into our workflow, and we are still working on making it even more efficient and productive. It all begins with our online shop, Boxitut-shop.de, but the digital workflow as a whole is just so much fun!"