Australian Billboard Media automates with Zünd Cutting Technology
Billboard Media installs two Zünd D3 2XL-3200 machines with BHS150 systems at its production facility in Melbourne – the first installation of its kind in Asia-Pacific.
The installation of two Zünd D3 Cutter 2XL-3200 with Board Handling System BHS150 at Billboard Media in Melbourne is the first installation of its kind in Asia-Pacific. Billboard Media decided on the investment following a bottleneck in its workflow at the cutting stage. The company currently operate six flatbed printers, four UV roll-to-roll and four latex roll-to-roll printers as well as a host of finishing equipment which includes hot air vinyl welders, guillotines, die-cutters and table cutters. With its six large format flatbed printers running two shifts, five days a week, Billboard Media senior production coordinator David Langford said the business could print jobs within hours, but it would take several days to progress a job through its cutting department. "We had added an auto-platen die- cutter and moved a great deal of our carton work onto it but our four existing cutting tables from a competitor of Zünd struggled to keep up with the signage and display work," he said. "We were running additional shifts at night and on weekends, which incurred labour costs. We have a good reputation for fast turnaround times, so we take delays in getting product out to our customers as a failure on our part. That had to be addressed quickly."
The largeformat printers customer base includes anyone from small independent signage contractors to multi-national print management companies and retailers. With 65 staff employed, Billboard Media works across a wide gamut of printed products – from banners and billboards to signage, display, posters, promotion, transit and corrugated carton work.
So, when the requirement for augmenting its existing cutting tables arose, Billboard Media researched into what was available in the market. "We started to examine ways to improve speed, costs and workflow," Langford said. "We try to understand every aspect of a machines capabilities and performance before making a decision. In this case, we narrowed it down to two options which included Zünd. By the time we were ready to talk to suppliers, Zünd was already in our prime spot." Billboard Media's extensive research process included speaking to some of its customers that own older-generation Zünd Cutters themselves. "We got feedback from some of our customers who owned Zünd Cutter that they were excellent machines. Additionally, a few of our staff had worked with Zünd Cutters and also highly recommended them," he said.
Once Billboard Media set its sights on Zünd Cutters as a solution, it got in touch with Zünds local reseller Starleaton to determine the best configuration for the business. "Starleaton came out to our plant, looked at what we were doing and the direction we wanted to head as a business. It took the time to understand what we did and how best to solve our particular issues, and recommend the Zünd D3 with BHS150", Langford said.
The solution in action
Since the installation of the two Zünd D3 Cutters with BHS150 systems, Billboard Media has been able to service its clientele quickly and efficiently without having to compromise on quality. "We have one operator running both machines. He loads a pallet of printed sheets, starts the cutting process and is then free to perform other duties while the Zünd production lines autonomously load, cut and stack completed sheets on a pallet," Langford said. "The Zünd D3 Cutters are more than three times faster than our old cutting tables from Zünd's competition – that translates to a significant increase in throughput. Downtime has also been reduced as the D3 Cutters can be left to run while staff are on breaks or even left to complete jobs autonomously and unattended after hours".
According to Langford, the units' speeds are their best quality. "Getting work off the floor, cut and out to customers quickly is of great benefit. Of course, speed is not the only thing. The cutting must be accurate and of high quality. And there is the added benefit of automation, which means we have increased output without increasing labour costs," he said.
Langford also added that the Zünd D3 Cutters will help the business expand its current display and packaging offerings. "We are looking at increasing our corrugated board printing capabilities, which will enable us with a wider market to play in. This would, in turn, increase our competitiveness on longer run projects and provide quicker turnaround times for our customers.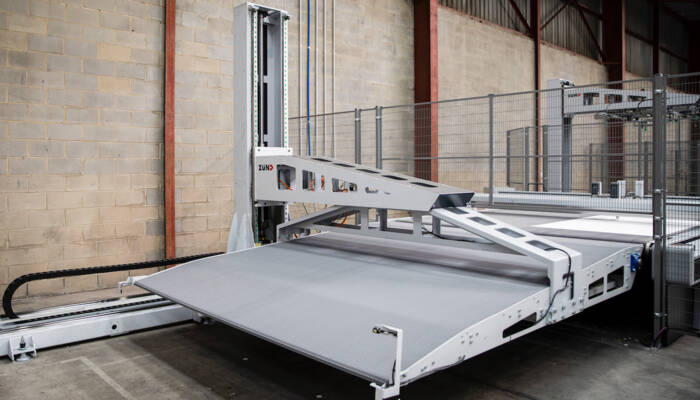 "The Zünd D3 Cutters with BHS150 systems have fulfilled our main priorities of speed and automation. And hopefully with increased print production, there will be a need for us to increase our conversion capacity in future. Installing additional Zünd Cutters would definitely be something we would be looking at in future."
David Langford
Senior Production Coordinator
A true "lights out" cutting solution
The Billboard Media investment marks the largest Zünd installation for Starleaton to date since it took over the Zünd portfolio as its local agency several years ago. As it is the first of such installations in Asia-Pacific, Eaton said it highlights the benefits of introducing such automation. "We have got a number of these installations coming up over the course of 2021. Ultimately, businesses are either upgrading current cutting systems to add in the semi-automated systems or are looking at other fully- automated systems to improve their overall production efficiencies."
Eaton concluded by stating: "The Zünd D3 2XL-3200 Cutters with BHS150 systems appealed to them as they are end-to-end automated cutting machines. "It enables the business to cut pallet to pallet, having material stacked up to 1.5 m. With the fully automated Board Handling System BHS150 to pick up the sheets, cut them and then move them to the other end without any human touch points, this is a true 'lights out' cutting solution."