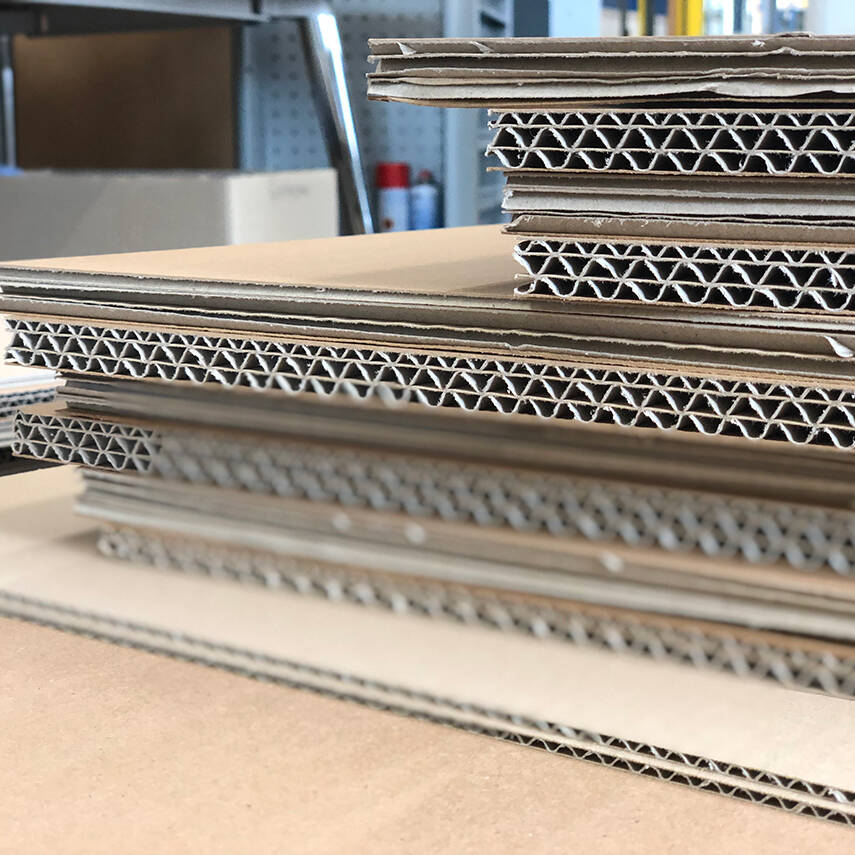 Customized and made to order – with cutting-edge automation
Packaging solutions from Wellpack are many things, but they aren't off the rack... or are they? An important component of Wellpack's successful strategy is the company's investment in highly automated Zund cutting technology.
The 50 employees of Wellpack AG in Einsiedeln, Switzerland, are "creative in finding solutions and efficient in packaging"; and lately, one could also add: "exceedingly productive in cutting". Recently, the company, which specializes in the manufacture of packaging systems, implemented digital cutting with a fully automated Zünd production line. At the heart of the system is a Zünd G3 cutter with extended beam clearance for processing packaging foam. Also included for completely automated material handling is the BHS150 Board Handling System.
Wellpack AG's nearly 100-year old history has been turbulent. Founded in 1924 as a box company, it fell victim to a fire in 1948 and in 1951 rose again as Holz AG, quite literally like a phoenix from the ashes. The Wellpack of today was established in 1992 and in 2000 became one of 27 Palm Group affiliates. An SME operation backed by a global corporation offers advantages, a fact Andreas Kilchenmann, Managing Director of Wellpack AG, is well aware of: "In dealing with our customers, we can choose to act as an SME or as a global concern. Some of our major customers value our international footprint, while smaller companies prefer to see us as a medium-size enterprise». This approach seems to work well for Wellpack and its nearly 1,500 clients throughout Switzerland, many of whom are in the capital goods sector. "For these customers, we develop and manufacture highly customized combination packaging systems. Small series, from 1 to 1,000 units, make up our core competency".
Wellpack also serves customers involved in heavily regulated industries such as aerospace and medical technology. These companies are confronted with mounting legal and regulatory requirements and the challenge of having all their processes meticulously documented. "With our state-of-the-art CAD systems, we can fully document each project, an important prerequisite for being able to serve these customers at all. The data workflow is a make-or-break proposition for us. We use the same software as our customers, which enables us to import their CAD data directly and, technically speaking, allows us to communicate with them eye to eye."

"Automation in the cutting workflow is a true cost-cutting tool. There is enormous potential in terms of added value, which we can exploit to its fullest with the new Zünd G3 cutter equipped with the BHS150. Remarkably, the Zünd cutting solution has helped us expand our overall production capacity by half."
Andreas Kilchenmann
Managing Director of Wellpack AG
Custom – the new standard
Customized mass production – what appears at first glance to be a contradiction in terms, has ceased to be one. Wellpack is a perfect example, with its ability to fulfill high-volume orders, taking advantage of economies of scale, high-level automation, and favorable pricing to customers, while at the same time offering custom products at custom prices. Long runs of more than 100,000 units are no problem for Wellpack and its sister companies, but the focus is clearly on highly customized short runs. The production environment reflects this. It is geared towards producing custom products at an industrial level – quickly, flexibly, and economically. "On average, we have a new order on a machine every three minutes – something that is feasible only through lean production. Only with optimized, automated processes and a steady flow of materials, we can succeed in remaining competitive."
Ever shorter delivery times are another perpetual challenge in optimizing the production workflow. Wellpack counters this by, among other things, continuously expanding its production capacity – thus the recent investment in a Zünd G3 cutting system with BHS150. The fully automated board loading/unloading system combined with a high-performance G3 cutter with expanded clearance, provides uninterrupted, high-throughput capacity for foams, carton, and corrugated cardboard. "Without this investment, cutting would have become a serious bottleneck."
The 1.5 m stacking capacity and high level of automation make the BHS Board-Handling System truly unique. Pallets of raw material can now be moved into the loading unit and then fed onto the cutting system without further manual intervention. This translates into a significant reduction in material handling. Furthermore, medium and large orders can now be processed unattended, even in lights-out operations. Uninterrupted machine operating times are extended, which reduces manufacturing costs. An innovative system that makes use of a conveyor belt for unloading the material eliminates the need for bridges to keep cut pieces in place, which reduces the time and effort involved in separating cut parts from waste and further enhances the efficiency of the system.