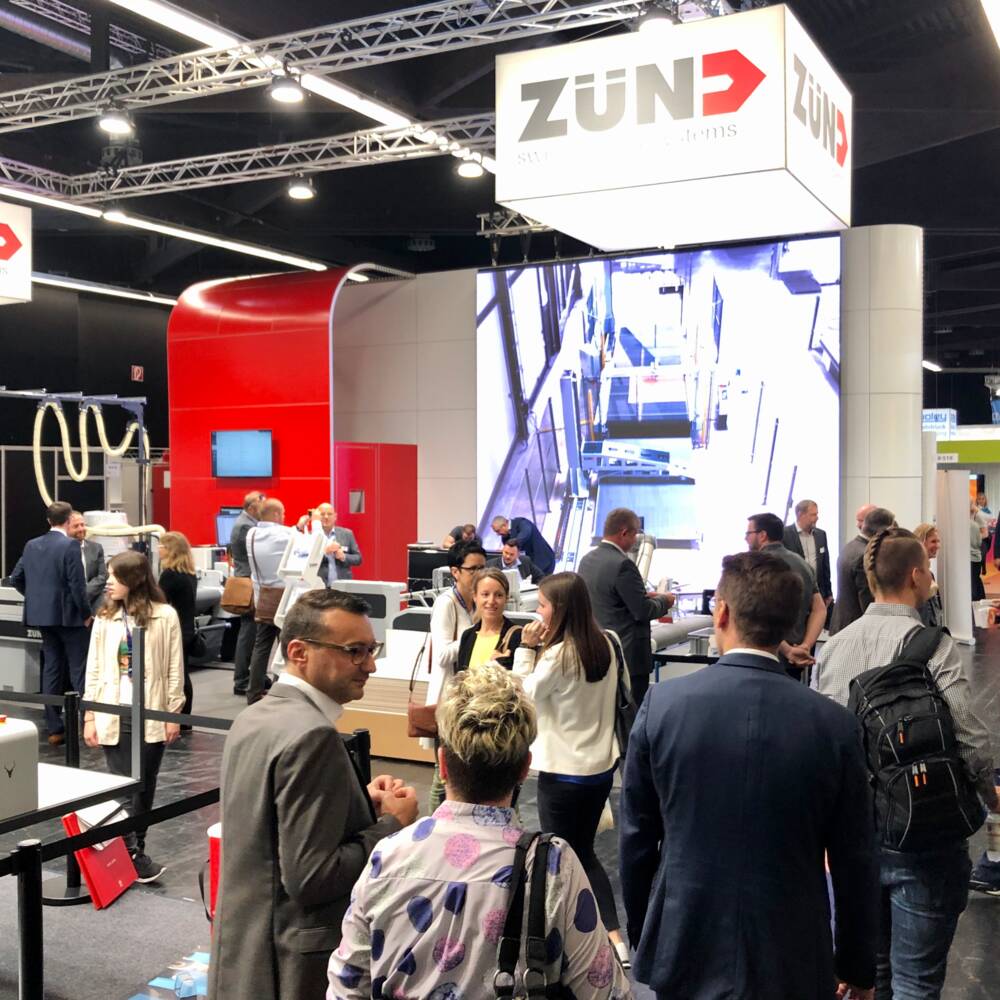 Fachpack 21 - Zünd demonstrates digital cutting at an industrial level
This year everything in the Zünd booth revolves around efficient cutting of a wide variety of packaging materials, from solid and corrugated cardboard to wood-based materials such as MDF. A Zünd cutter fully configured with automatic material-handling automation represents a perfect example of digital cutting with exceptionally high process reliability.
With its highly versatile automation solutions, Zünd offers numerous possibilities for sustainable increases in productivity and profitability. The range extends from automatic tool changers to collaborative robotics and integrated production lines with fully automated material handling. At Booth 444 in Hall 7A, Zünd is showing what a partially automated production workflow for processing corrugated cardboard and MDF looks like, with a G3 cutting system equipped with BHS board feeder. In addition, the cutter also features an automatic router-bit changer ARC that can accommodate up to eight different bits. With this option, the operator never loses track of the available tools, can keep retooling time to a minimum, and is able to make even more efficient use of the cutter.
Packaging manufacturers are under constant pressure to reduce production time and preserve margins. Zünd's modular digital cutting and material-handling solutions ensure individual automation needs are met and digital production workflows are made even more efficient and profitable. With collaborative robotics, for example. Zünd uses a Universal robotic arm to show how this technology can be used effectively in digital production. The robotic arm automatically picks up and removes cut parts from a Zünd S3 cutter and deposits them at predefined locations. An automatic sheet feeder performs the function of feeding sheeted materials up to 5 mm thick from a stack up to 20 cm in height onto the cutting system.
In addition to its comprehensive cutter portfolio and material-handling options, Zünd now also offers an impressive range of software solutions for many different applications. Fachpack visitors will be able to explore PrimeCenter, the control center for generating print and cut data. Zünd is also premiering Zünd Connect, a web-based monitoring tool that gathers key performance and availability data of integrated cutting systems and calculates overall system effectiveness (OEE). Zünd Connect helps detect the sources of efficiency and productivity losses. The user obtains key indicators that can be used to further optimize the digital cutting workflow. Visitors can request live demonstrations of these software solutions directly from Zünd booth staff.