Double-edged ambition
The GR Group's growth and ambitions have led it to invest in a Zünd cutting plotter to complement its existing ones in order to improve productivity and project quality.
The growth of a company necessarily passes through investments even at times of greatest market uncertainty. Without giving in to pessimism and unforeseen events, continuing to believe in one's project means also believing in the future. A strategy whose validity has been proven time and again by the GR Group. In fact, very little is left of the original print-only company today, leaving room for a large and organised reality capable of taking full charge of a project, developing it and delivering it to a customer, in line with time and quality expectations. Lucrezia Rampinini, the company's third generation, recounts the most recent steps along this path, in some ways the most difficult ones, from which the latest major investment in Zünd technology has also sprung.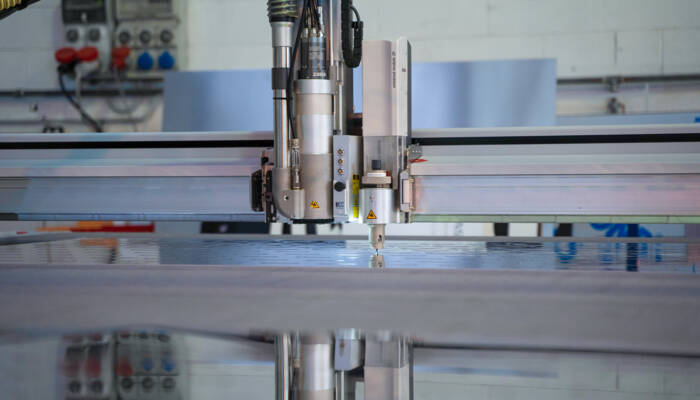 How have you evolved in recent years and how have you adapted to so many unpredictable changes?
Our activity has developed more and more around the technical department, at the service of the customer. Our interlocutor is now usually a designer, an architect or an agency, so consultancy must be a primary factor in distinguishing us.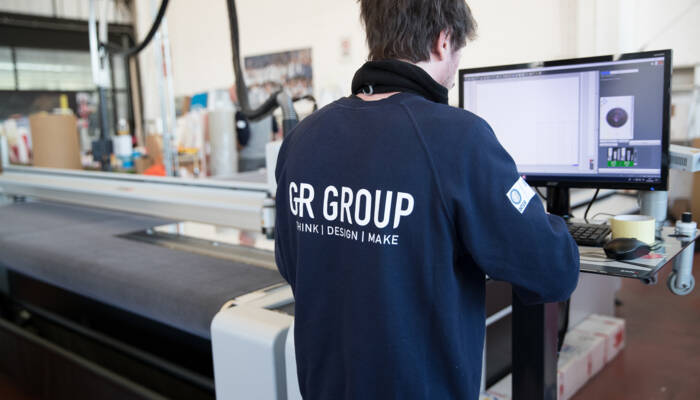 What does this evolution mean for you?
Often the customer comes to us with a simple sketch. Our task is to translate it into reality, carrying out all the necessary evaluations, verifications and, if necessary, authorisations. For example, during the recent Fuorisalone in Milan, we created a large whale about ten metres long for the Lombardini22 studio in their offices, hanging from the ceiling, representing a whale skeleton discovery made in 2006 in Orciano, but conserved in Florence and a gift from the studio to the city of origin of the discovery. Our task was to engineer it, transforming a drawing into a series of compact polycarbonate sections, printed, cut and assembled with extreme precision and guaranteeing safety.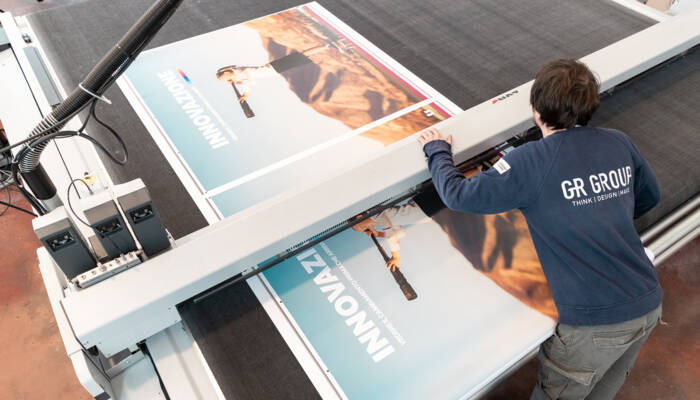 How much has the visual communication scenario changed in recent years?
As far as we are concerned, a lot. We are also called upon to take greater responsibility for a customer who is moving away from more classical decorations to embrace increasingly complex architectural and interior design installations where certification, documentation and safety are becoming the norm. Our ability to adapt, to provide training on materials and support in even the most bureaucratic matters is proving important.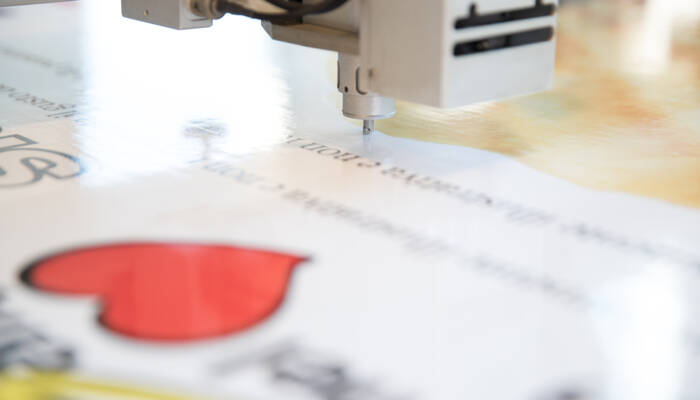 How useful has the well-established habit of following a work in its entirety been to you?
Definitely, a lot. To be able to count on all the skills and work first-hand allows us to take on larger projects. For example, where we talk about interior design, for us it means redesigning a room in the true sense of the word, with many elements. We don't just talk about printing, but also tailoring, carpentry, etc. or redesigning entire facades. These are complex jobs, with so many elements required to interact, where a lot of flexibility is also needed. The customer asks less and less for an object and more and more for a project.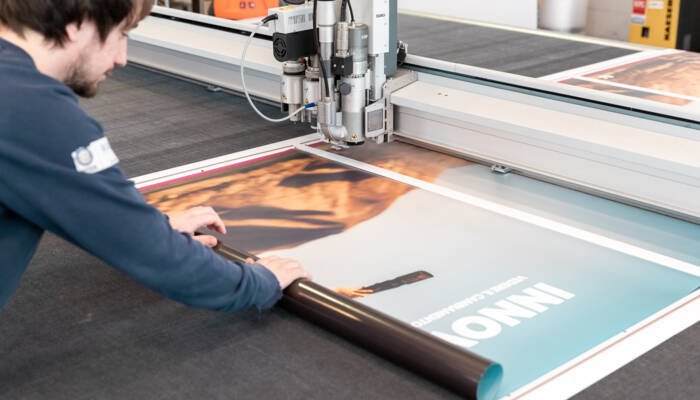 Qualitative leap with precision
Large, articulated and complex projects inevitably require equipment that is up to the job. When requirements change, we are called upon to adapt. In practice this means investing, a consequence that is certainly taken for granted, but often more in theory than in practice, where, however, the GR Group did not want to hesitate. Thus, a new Zünd G3 3XL-3200 cutting plotter entered the already rich machine park of the Legnano-based company and just recently turned one year old, essential to keep up with the pace of the market and its own ambitions. Entrusted to the experience of Production Manager, Juriy
When did you realise that you needed to expand your fleet?
We have been using a Zünd cutting plotter for several years now and have always been satisfied with it. However, the time had come to supplement it with a more modern one, in order to better adapt to the new working requirements of the market When we bought the G3 3XL-2500, we were mainly working on materials such as vinyl substrates, whereas now we are talking about an extreme variety and therefore needed something more versatile.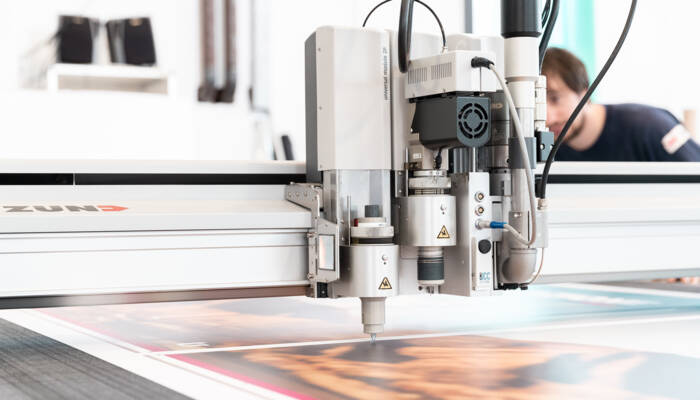 What were the needs behind the research?
Today we regularly deal with very different and larger materials, where we often also need extreme precision. We are talking about panels and reels even up to 3.20 metres. The only plotter we could rely on had become a bottleneck. In practice, we needed to increase productivity first.
What guided you towards confirming confidence in Zünd?
We always got along well, and the idea of continuing with the same technology is obviously functional. However, we looked at alternatives, but in the end it seemed the most reliable choice. In addition, and this is not insignificant, the tools from the existing cutter can also be used on the new one. Finally, we now have a cutter with a 3.6kW spindle, whose suction table and greater power mean greater precision. It means higher speed, less supervision and better quality of the resulting work.
How was the commissioning phase?
No major problems, I would say. Delivery and installation were on schedule, while for training we were already at least partially prepared. We only had to concentrate on the new functions. Incidentally, I would like to emphasise the total availability of the Zund Italia staff at all times, even if only for advice on materials. If necessary, we send them to their laboratory, where they test them and give us guidelines on how to handle them.
Have you already seen first-hand the benefits?
Yes. As soon as it was set up, production was streamlined. The increased power of the motor also means greater stability of the substrate during operations. Hence, less finishing work, an operation for which good labour is needed, and more certainty of getting the desired product on time.
For which applications have you already tested it?
We process panels, even very large ones. It gives us the support we were looking for in the production of illuminated signs and especially work with special joints. Previously these were separate operations, the responsibility of a department now relieved of this task.
Is there a particular passage that struck you?
I found inlay work very interesting. We used to do it before, but now the level of precision is much higher. The whole process is smoother, even with rigid materials. The efficiency of the vacuum table allows more precise work and in the end the better quality of the cut is evident
Have you met any difficulties in integrating it into your processes?
Again, without any hitches. We use layout and printing software that is already compatible with Zünd systems. In practice, the file sent to print already contains the information for the cutting phase and there is no need for a dedicated procedure.
You seem therefore satisfied with your new purchase...
Absolutely, yes. We were able to optimise our production process exactly as we wanted. Even on the same materials, the processing time has decreased. In addition, the increased precision results in fewer errors. So, time and material savings, with less waste.