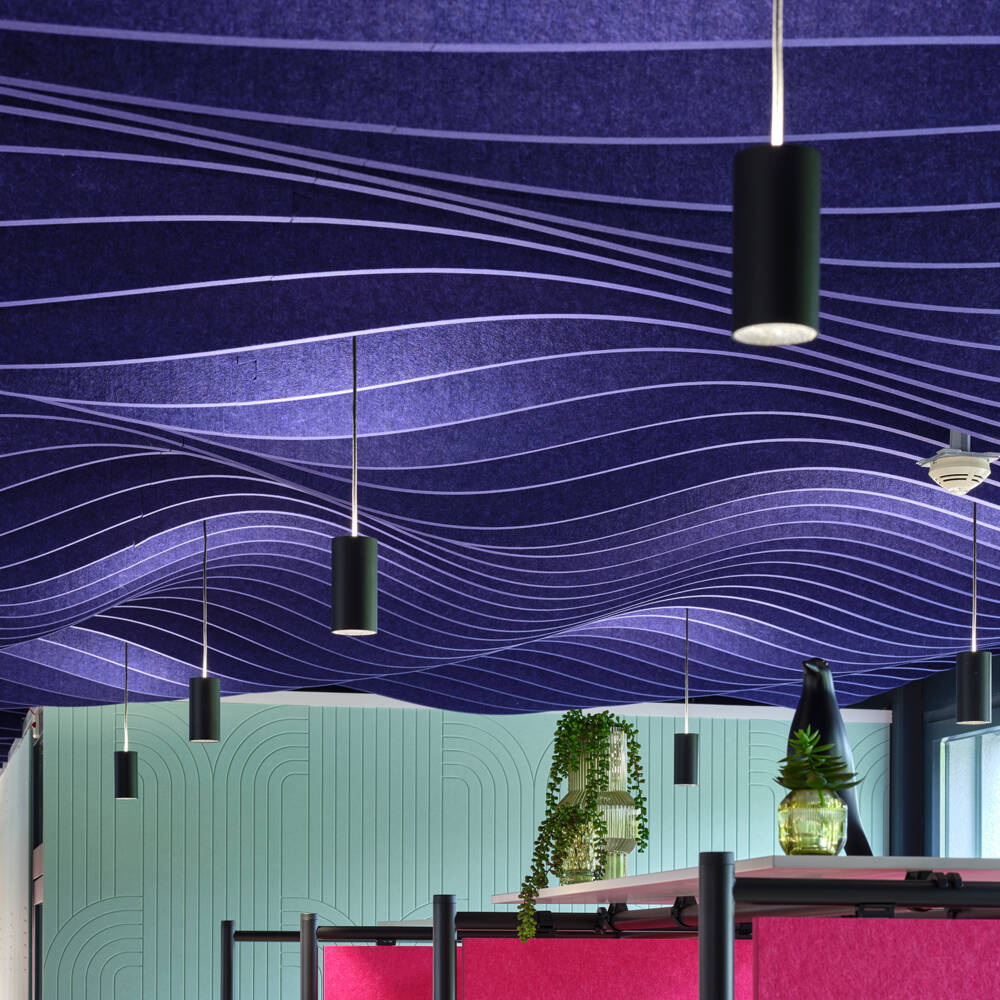 The impact of digital cutting
Ever since its founding, Impact Acoustic has pursued a clear mission: to develop and manufacture high-quality acoustic solutions that meet the highest sustainability standards. They use materials such as recycled PET and cellulose and fully digitalized their entire production process from the outset – a decision that would not have been made without Zünd and its digital cutters. And they haven't regretted it for an instant.
They wanted to have an impact, to create something in which design and sustainable development would be in harmony. And they wanted to improve room acoustics and help reduce echo. This was the mission that led Sven Erni and Jeffrey Ibañez to found Impact Acoustic in 2019. Both men had their roots in architecture and design and had worked in Asia and Europe for a number of years. Today, they and their roughly 100 employees develop and produce acoustic solutions for a range of different uses at their production facility in Lucerne, Switzerland. For their cutting needs, Impact Acoustic has relied on cutting technology from Zünd since the very beginning. They now have three Zünd G3 XL-3200 cutters in operation, and they've got plenty to do. The acoustic materials are cut in shifts and the order books are bursting. However, they're well equipped to meet demand with their all-digital production. "Where simple metal ceilings were once standard, today the demand is for more flexible solutions that meet higher standards in terms of room acoustics and aesthetics," says Sven Erni. The clientèle is mainly from the office context, but the tourism and hotel sectors are quickly gaining ground.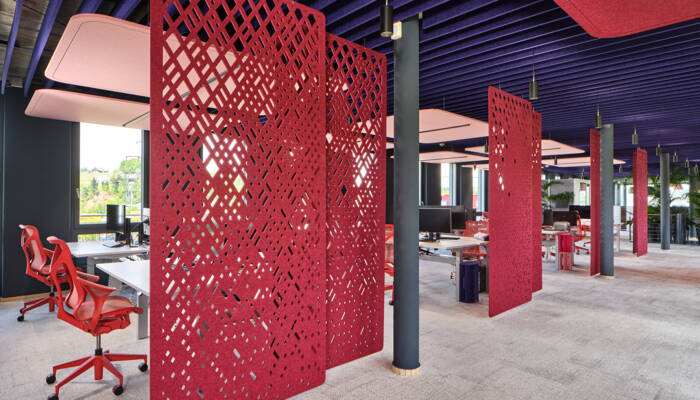 Impact Acoustic also serves big-name clients in Asia, building on co-owner Jeffrey Ibañez's personal connection to the market as a native of the Philippines. So it was an obvious next step when Impact Acoustic established a second production facility in Biñan, an hour's drive south of Manila, in 2022. "The Biñan location mainly serves our growing customer base in Asia and the Americas. The additional location enables us to produce more locally and, above all, with lower emissions," explains Sven Erni. Notwithstanding the 10,000 km between them, collaboration between the two locations runs like clockwork. Most of the order processing, product development and production planning is handled in the Philippines. And an identical Zünd G3 cutter is used for cutting in the Philippines as well. "With this kind of configuration, digitalized and standardized processes are absolutely essential. We have established the same production standards in both locations." For centralized monitoring of production at both sites, Impact Acoustic works with Zünd Connect. All Zünd cutters are connected via the cloud and provide production figures in real time. Sven Erni: "In terms of production, we make no distinction between the Philippines and Switzerland. We can monitor all cutters from Lucerne and have an overview of all relevant indicators through various dashboards at all times. We'll also be opening a third location in Italy soon, which will further increase the complexity." The data from Zünd Connect provides transparency and helps Impact Acoustic identify areas for improvement in its production workflow.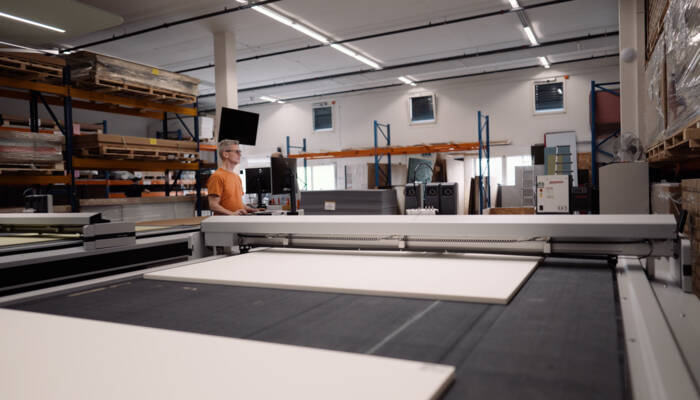 Sustainability is a must for materials as well
The ultimate recipe for success, and at least as important as the digital cutting, is the raw material used by Impact Acoustic. With a view to keeping their environmental footprint as small possible, the aspect of sustainability and the concept of upcycling play a central role. One example of this is Archisonic Felt, a "high-performance acoustic absorber" and environmentally friendly acoustic solution made of recycled plastic bottles that Impact Acoustic developed in-house. One square meter of the material consists of 88 recycled plastic bottles. "The materials that we use have a textile characteristic and are never entirely homogeneous or even. This makes the accuracy of the cutting all the more important so we can achieve our quality standards. You can't see where a cut begins or ends, for example. That might sound obvious – we're talking about closed forms created in a CAD program, after all. But the fact of the matter is that only Zünd cutters can meet our high standards in terms of the precision and quality of the cut."
Impact Acoustic's latest breakthrough is Archisonic Cotton, an acoustic absorber made of sustainable natural fibers. The main component is what are known as cotton linters, a by-product of the cotton industry. The material is completely recyclable and 100% of the acoustic absorbers can be returned to the production process at the end of the product life cycle. This reduces waste and makes efficient use of limited resources.
Several thousand square meters – not a problem
From sound-absorbing wall panels and dividers to acoustic ceiling panel systems and customized meeting boxes, the range of acoustic solutions is huge. Impact Acoustic does it all in-house, from the raw materials to the computer-aided design and even on-site installation. Complex projects such as acoustic projects for large office spaces spanning multiple floors can easily encompass several thousand square meters of space. "Jobs like that can quickly run to 30,000 individual parts or more." And each one is a bit different from the others. Keeping track of everything would be inconceivable without detailed production and assembly plans. "Every single piece has all of the relevant order and position data printed on it during cutting. This simplifies matters for the installation staff on-site since the assembly plans tell them exactly where each piece has to be installed." Production planning for the cutting itself is no less critical. "The installation team would be rather unimpressed if part 3735 were in the same delivery batch as part 5. With the production software from Zünd, we can ensure that something like that does not happen."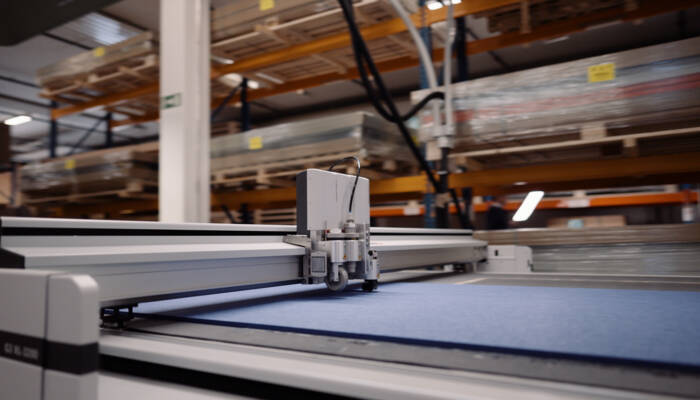 "Our entire production process is digitalized. The whole operation just wouldn't work without the Zünd cutters."
Sven Erni
CEO, Impact Acoustic
Small step from the prototype to the series product
With its combination of state-of-the-art technology, high-precision cutting technology from Zünd, experienced product designers and application engineers, Impact Acoustic has everything it needs to turn prototypes into tangible, functional series products. Prototyping, after all, is another important aspect of the work at Impact Acoustic. Impact Acoustic covers everything from one-offs to mass production. Everything from single-unit runs to prototypes for which 50 to 100 parts might be manufactured on the spot. "Here, too, the Zünd cutters make the most of the advantages of digital cutting. We're highly flexible in terms of cutting and can reliably deliver every job on time."
"The reliability of the Zünd cutters is absolutely key for us, especially at our relatively small location here in Lucerne. Our Zünd cutters are running non-stop five days a week, and we need every bit of that output. With our tightly scheduled production planning, we'd have a problem if a cutter was out of action for even half a day. I'm a big fan of the service from Zünd as well. Their flexibility, speed and expertise are exceptional. That's very reassuring for us and it's one of the main reasons we depend on Zünd."
Impact Acoustic in a video portrait
The impact of digital cutting
Sven Erni and Jeffrey Ibañez founded Impact Acoustic to revolutionize room acoustics with sustainable design. At the core of their digitally driven production are three Zünd G3 Cutters. They provide them with the flexibility and precision in cutting they need in the production of their acoustic solutions.