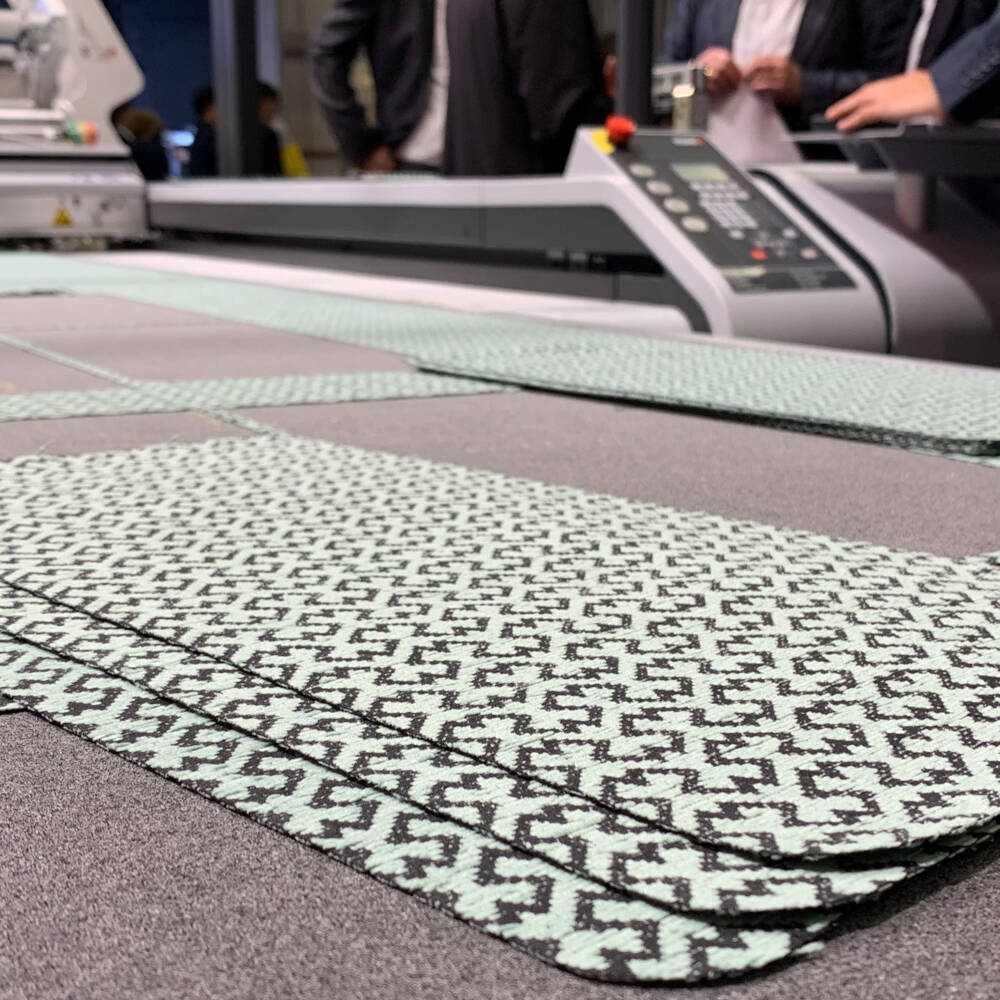 Zünd at Interzum 2023 – everything an efficient cutting room needs
At Interzum 2023 in Cologne, Zünd, the innovative cutting-solution specialist for the upholstery industry, focuses its exhibit on productivity and cutting efficiency.
Under the banner "Efficiency to rely on", Zünd, in cooperation with software partner Mind, presents integrated cutting solutions to help users automate their production environments and make them more efficient . Industry professionals visiting Booth E040/F049 in Hall 10 will be able to experience the benefits of integrated leather cutting in the form of a Zünd D3 cutter with dual-beam technology. The Zünd booth at Interzum 2023 is dedicated to demonstrating all the processes involved in digital leather cutting, from hide scanning to cutting and picking & sorting of cut parts. Visitors can discover the latest modular solutions for digital workflows, including nesting, textile and leather cutting, as well as software-supported parts picking. Zünd is also highlighting its holistic approach to advising customers. "We offer workflow solutions for an extremely wide range of requirements and work closely with our customers to develop solutions optimally matched to their manufacturing processes and the materials they are using. This requires a holistic, consultative approach that takes into consideration hardware, software, as well as services," explains Manuel Enriquez, Segment Manager Leather.
Zünd cutters are at the heart of Zünd's comprehensive, modular digital cutting solutions that encompass the entire manufacturing process, from digital scanning and grading, to interactive or fully-automated nesting, the cutting process itself, and finally, material handling and assisted picking/sorting of cut parts. Whether for a small upholsterer cutting just a few parts each day or for industrial-scale production, where hundreds of parts are cut on a daily basis, Part Scan enables a straightforward, efficient workflow for digitizing the parts that go into an upholstery model. The flexible, automatic part scanner reliably identifies features and is very easy to integrate in an automated production environment. The Over Cutter Camera (OCC), combined with state-of-the-art software, is used to capture patterns and compensate for distortions in the fabric.
For Zünd, efficiency also means offering customizable nesting methods to accommodate different requirements. Zünd uses the latest nesting algorithms, which significantly reduce the time required to nest cut pieces on the leather – either interactively or automatically – and ensure maximum material yield.
Of course, the demand for maximum efficiency also extends to the actual cutting process. The capabilities of Zünd modular cutting systems are almost universally applicable, which makes them very easy to adapt to specific requirements. In the upholstery industry, where besides leather and fabrics all manner of other materials, such as foams, felts, and technical textiles come into play, this universality makes Zünd cutters the perfect choice as key component of the production workflow.