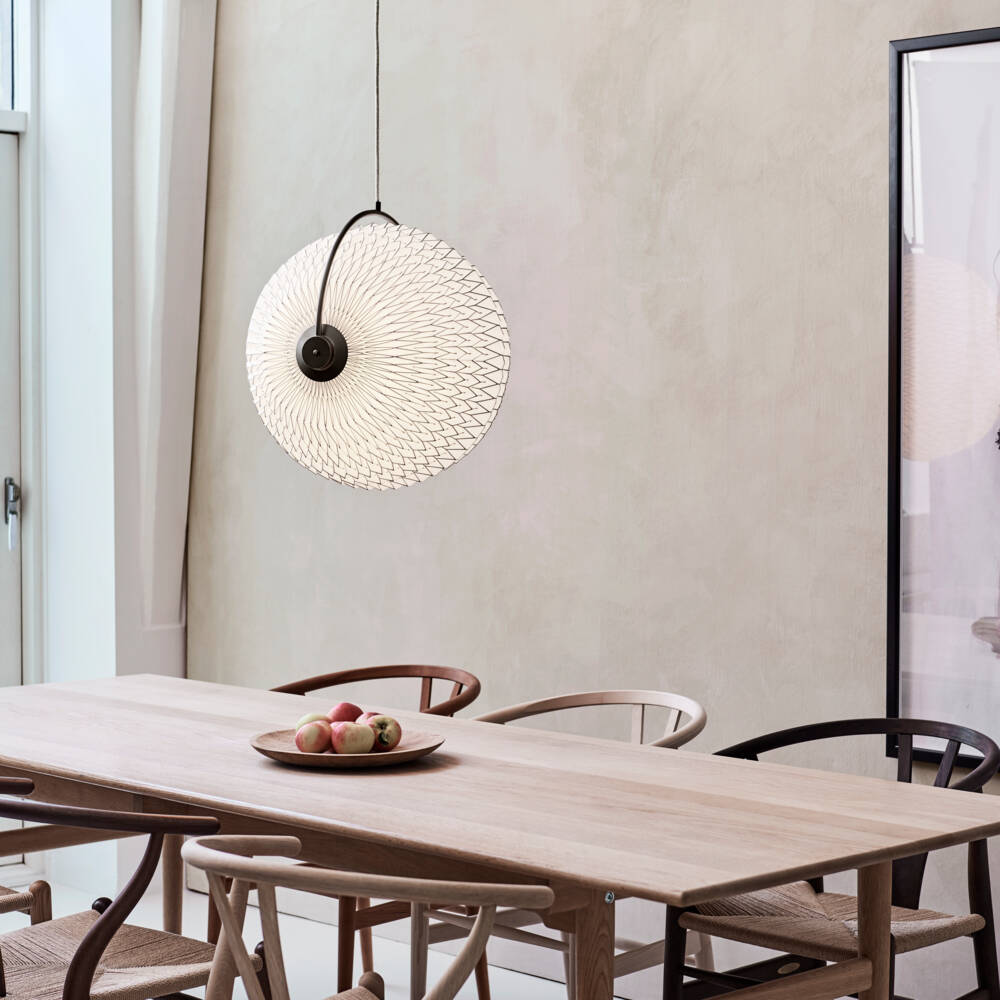 An Old Company With a Modern Soul
Lighting company Le Klint is situated in Odense, Denmark, and has since 1943 produced designer-lamps. Well known foremost for advanced folded and pleated paper and plastic lamp shades,Le Klint also works in other materials – glass, metal, and wood, and produces all kinds of lamps: Pendants, wall lamps, ceiling lamps, floor lamps, etc. Creativity, beauty, and craftsmanship are in the center of everything Le Klint does.
Even though Le Klint is an old company, it has always understood and managed to renew and innovate while holding on to its core values: Beautiful Scandinavian design in quality materials with optimal lighting abilities. The range of products is constantly evolving and is regularly renewed and sorted. Le Klint uses freelance designers to create new models and innovate their designs. In addition to the factory in Odense, Le Klint has a store in Copenhagen. They also sell lamps from their online store and deliver to stores primarily in Denmark, but also Northern Europe and Scandinavia.
Production in constant development
Folding lampshades require expertise and in-depth knowledge of materials and techniques. When a series of products is mass-produced, die-cutting machines are mostly used. But for products that are under development, are in limited editions or are very large, they use Zünd Cutters. Le Klint bought their first Zünd digital cutter in 2005. A Zünd LR-1600 with conveyor feed and extension table for continuous production from a roll. An automatic sheet feeder was later added to the machine, when they introduced "Swirl" – a new lamp-series, cut in thin plastic sheets. Recently, they have expanded with a Zünd G3 XL-3200 with a conveyor feed and extension table. Both machines have cutting and creasing tools for processing thin plastic and paper materials for the lamps, but also for cutting custom packaging in cardboard, foam, and silicone. Lars Kirkebæk Madsen, production manager at Le Klint explains: "When you discover that your cutting machine can do much more than you initially had intended, you use it more and more. For instance, we now also cut packaging in cardboard and gaskets in silicone. Previously we bought these things ready-made. Every day, we evaluate what we need or things we miss, and our cutters are put to work."
Inspired by the packaging supplier
"We bought our first Zünd cutter fifteen years ago. It was acquired primarily to produce oversized lampshades that were too large for our traditional die-cut machines. These are machines where you make a roller in brass, which then shapes all the lines. Our traditional way of producing shades was also giving us developmental challenges, as we had to make a brass roller for each new shade, which was very expensive. Especially if you had to make changes and adjustments to the rollers. We came across a digital cutter at our packaging supplier, and that was just what we needed! So we invested in one similar – a Zünd Cutter.
It did not take long before we started using it for many other things as well. We found that instead of punching holes in the screens by hand, we could use the Zünd cutter. This is the reason why we bought one more cutter. We use it not only for development, not only for oversized shades – but for lots of other things as well. "


"When you discover that your cutting machine can do much more than you initially had intended, you use it more and more."
Lars Kirkebæk Madsen
Production Manager
Perfect prototypes in no time
"When we work with designers, we are now able to produce models based on their drawings in short time, so our employees can start folding, and we can decide on adjustments. In a single work-day, we can create several variants of a new design – and quickly decide on the further course. This was virtually impossible in the past. For each new idea or design, a brass roller had to be made by hand. Now it just requires that we have a digital drawing so that we can create a new product."
"Some of Le Klint's lampshades, e.g. Caleo, have markings printed in the crease-lines. It creates a beautiful effect but requires very precise creasing. We plan to use the new optical camera for this. It can correct for minor tolerances, and ensure that the cutter creases precisely in the print"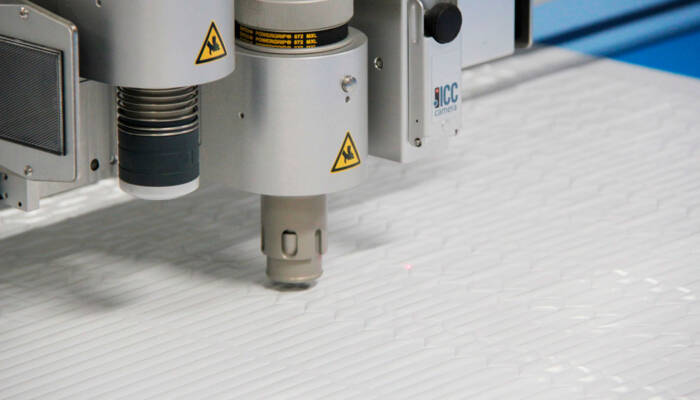 Precision above all!
"The old machine creases at a steady, constant pressure. The new one can adjust the pressure according to given parameters, and this is something we intend to use much more. It means a lot that we have the same uniform creasing when we subsequently have to fold the lampshades. When we talk adjustments, it is in tenths of a millimeter – that is not a lot. It does not take much before the thin, delicate material is cut through or becomes difficult to shape. Our Zünd machines are in use every day."