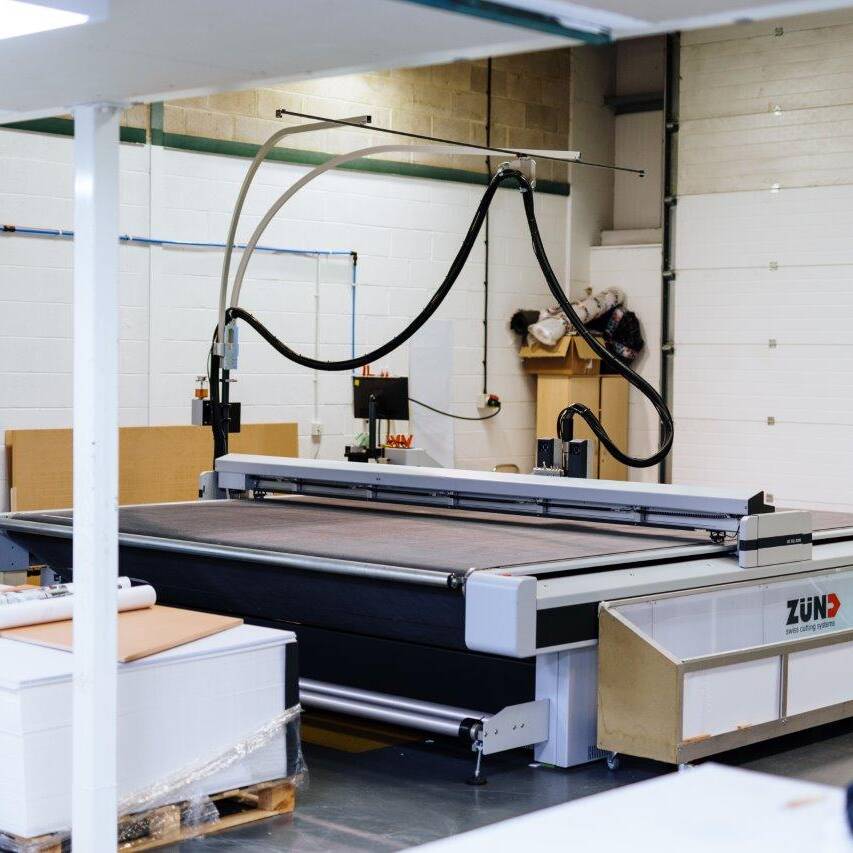 The Solution House increase their cutting capacity with a second Zund Cutter
The Solution House is a leading global business specialising in display and branding. Working from their production facility in Yorkshire, they have over 15 years of experience within the print industry. They are now an international success story with large corporate clients including Google, Mira, Jet2.com and McLaren. The company takes great pride in offering world-class services whilst staying true to their family-run spirit.
Debbie Day, Director at The Solution House said "Our reactions are quick and as an expert UK manufacturer you can expect more than just an idea. We can overcome any challenge; we offer innovative advice and compelling solutions enabling businesses to communicate their key messages with maximum impact. We feel it's our duty to provide a seamless and hassle-free service, but above all a personable one. We pride ourselves on the relationships we've built with our clients over the years and the honourable feedback we continue to receive from them".
Last year, during the global pandemic, The Solution House put its sophisticated factory to good use by carefully developing a range of PPE (Personal Protective Equipment) for the health sector and workplace shields to help businesses return to work in-line with social distancing guidelines.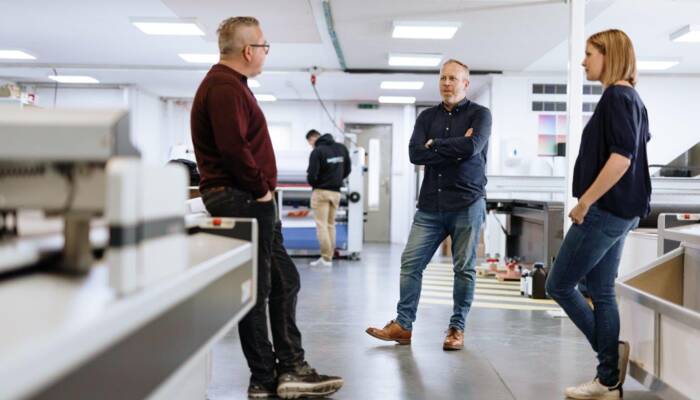 As everyone began to return to normality, The Solution House were keen to ensure it remained well placed to deliver the needs of their clients in the new world of display. This meant new cutting capacity was required to deliver the increasing number of orders for social distancing signage required by retailers and large corporates. Debbie explained: "To meet the demand of our growing orderbook, we had our existing Zund machinery running very successfully 24/7. More recently, the pandemic landscape meant deadlines and lead-times became much shorter, so we needed more cutting capacity quickly.
Trust is a key factor for The Solution House when investing in any new equipment and having purchased their first Zund a few years ago, they were familiar with the level of service and product quality they would receive. Debbie said: "We purchased our first Zund back in 2018, we believe they are the best in the business and trust the reliability they offer. Our Zund Cutter has seen us through several vast periods of growth and looking ahead, it made sense for us to consider another Zünd Cutter".
Having spoken to Zund UK and specifying their requirements, The Solution House opted for a Zünd Cutter 3XL-2500 with optional extras. Debbie said, "Our investment in the Zund equipment has future-proofed our business for its next period of growth. From the initial financing conversations through to purchase and the remote virtual support, we have remained impressed with the high level of service provided."
Reflecting on their recent purchase Kevin Supple, Director at The Solution House said "Having the new equipment in place enables us to realise some basic efficiencies. With an additional Zund Cutter we can move faster without compromising on quality. Commercially, Zund's efficiency can also create savings on our production costs, for example by dropping a shift of manpower. However, with the current high volume demands on production, having an additional Zund means that we can keep those colleagues working, and simply produce more."