Back to overview
L3 Leather Cutter
Smart, efficient leather cutting: The L3 is perfect for the leather industry and is specifically designed for producing top-quality leather goods.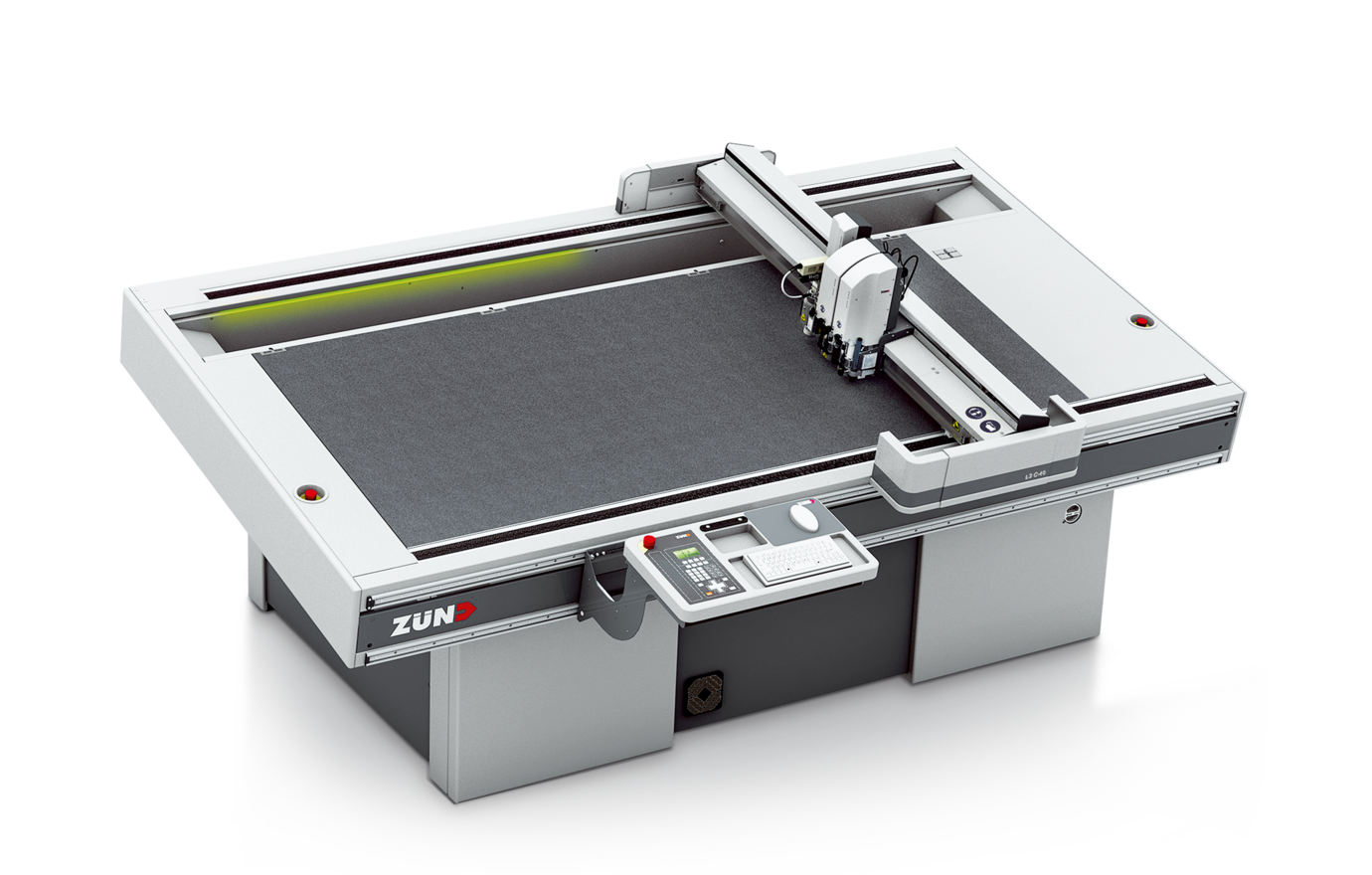 EFFICIENT & ECONOMICAL
Produce high-quality leather goods
Take your productivity in leather manufacturing to the next level. Process leather, sole, lining, and stencil materials precisely and efficiently with the L3. The cutting system handles even highly complex patterns at exceptionally high speeds. Furthermore, because of its superior precision, time-consuming post-production finishing tasks have become a thing of the past.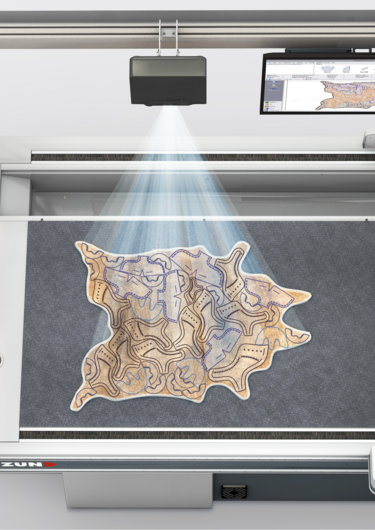 L3 cutter overview
The 2 different cutter models of the L3 line let you select the perfect machine size for all your production needs. Our digital cutting systems are intelligent, efficient, and ready for the future.
Process leather, sole, lining, and stencil materials precisely and efficiently with the L3 cutting system. With the right tool, you can cut leather at speeds of up to one meter/40 in per second. With the L3 you can produce leather goods economically, efficiently, and at premium quality levels.
Couches and sectionals, office chairs, car seats, leather steering wheels - Zünd cutting systems are specifically designed for producing top-quality leather goods. Many well-known manufacturers in the leather industry rely on Zünd cutting systems. This is not surprising considering the outstanding performance, low cost of ownership, and easy integration into your workflow ensuring a rapid ROI. At 3240 x 1000 mm /128 x 40 in, the working area of this high-performance leather cutter is perfect for efficiently processing animal hides.
Zünd cutting systems are used both in prototyping and production. We can offer you the right solution for your production environment, tailored to your individual needs. With a large variety of tools and a range of sophisticated material-handling solutions, we can guarantee a perfect fit.
The L3 cutter is designed for non-stop operation with loading/unloading and cutting all taking place at the same time. The machine can be set up for two types of production workflows and material handling: With the standard set-up, the entire working area is available for processing once the material is loaded/unloaded; in a tandem set-up, the working area is split into two halves, making it possible to load and unload materials while the machine continues cutting. A green LED strip indicates in which area production has ended and new material can safely be loaded or unloaded.
L3 cutter sizes
Choose from 2 different sizes to select the perfect machine for your application.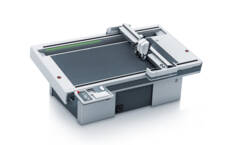 C-40
Width (in mm)
2300
Length (in mm)
1000
Perfect for the leather industry
Find out more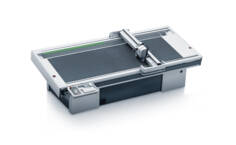 C-56
Width (in mm)
3240
Length (in mm)
1000
Perfect for the leather industry
Find out more
Zünd L3 – efficient, robust, powerful
The L3 is extremely fast and robust and gives manufacturers the ability to dramatically increase their output. The exceptional productivity of the cutter stems from its smart motion control, precise drive system, and fine-tuned cutting technology. Furthermore, with its superior precision, the cutter proves itself by immediately processing even highly complex patterns at exceptionally high speeds.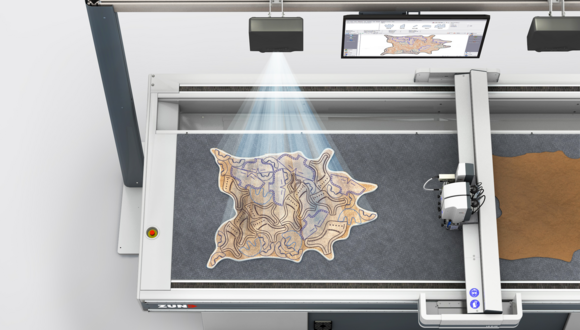 A projection system visually supports the operator throughout all phases of production - from capturing the leather to nesting and removing cut parts.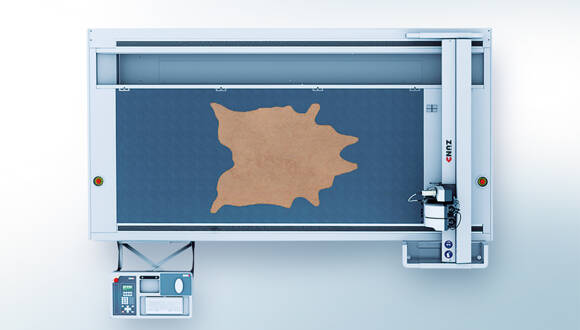 Energy-efficient vacuum turbines ensure reliable material hold-down during the cutting process. The leather is held down and processed on a highly stable aluminum cutting surface, which is divided into 56 individually controllable vacuum zones. Adjustable vacuum generators with a power of up to 12 kW create the necessary vacuum. The quality and design of the table plate guarantee optimal hold-down and reliably clean, precise cuts.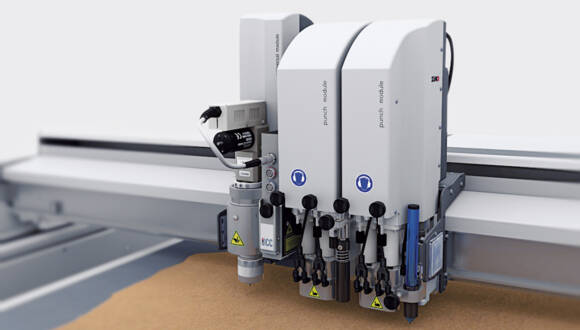 You have the flexibility to precisely choose and combine the tools you need for the job at hand and in accordance with your specific production requirements. You can equip the L3 with up to seven different tools.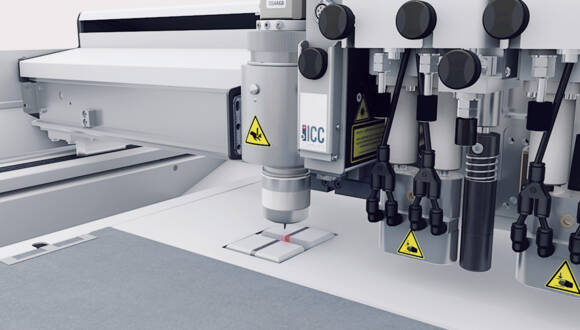 Fast, precise, efficient: the setup of cutting tools, blades, and bits occurs fully automatically with an integrated tool calibration system. The ITI Initialization System makes the process quick and precise and eliminates any manual steps in determining the proper cutting depth.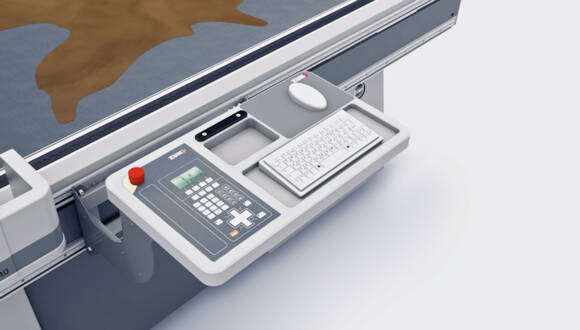 The L3 working surface is slanted, which facilitates the loading/unloading process. For optimal accessibility, the control panel is mounted on a guide rail and can be freely moved.
Adaptable high-performance modules
Find the perfect module / tool for every application.
L3 leather cutter
Flexible in the choice of materials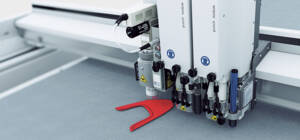 Leather uppers
Cutting and perforating tools specially developed for leather cutting ensure optimal performance and productivity.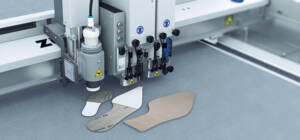 Sole materials
Hard, tough materials require particularly powerful tools. Robust tools such as the Electric Oscillating Tool – EOT or the Pneumatic Oscillating Tool – POT are perfectly suited for cutting sole materials.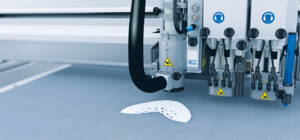 Stencil materials
Process stencil material of any kind. For materials that are too hard or dense for cutting, Zünd offers a range of routing tools to get the job done.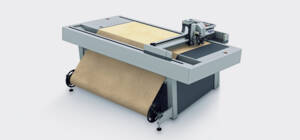 Roll materials
Leather processing is your core business, and you want to increase the flexibility of the L3 even more? With the optional roll-off unit, you can easily and efficiently process rolls of synthetic leather, and others up to 2 m/ 78 in width and a weight of 70 kg/ 154 lbs.
Questions?
Contact us for more information, for scheduling a demonstration, and for anything else you might like to know about digital cutting.